For Americans, turning 21 is a momentous occasion. It means you are finally an adult and can legally buy and drink alcohol. Whether or not alcohol is a part of it, you should definitely celebrate your 21st birthday in style. From bar-hopping to a booze cruise, here are some fun ideas on how to celebrate this big birthday.
Ways you can celebrate your 21st birthday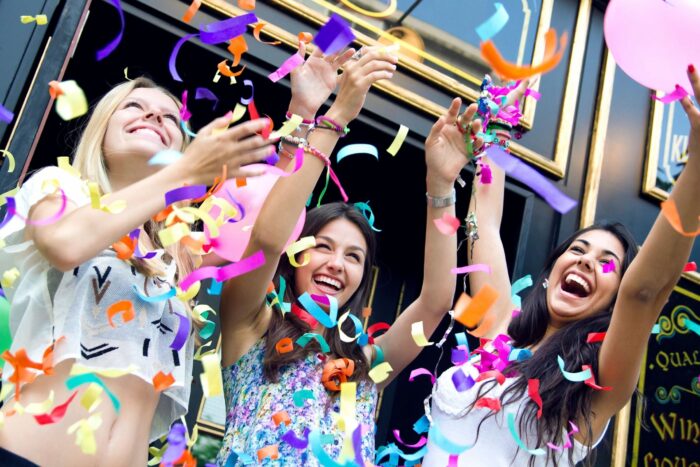 1. Go bar or club hopping
This is an obvious one. Now that you can legally enter a bar and drink alcohol, why not make the most of it by hitting up a series of bars, and as the night progresses, several nightclubs? Just be sure to pace yourself and drink plenty of water in between drinks. Otherwise, you might end up overdoing it for your first official time drinking.
2. Throw a party
Throw a big bash for your 21st with plenty of boozy drinks to celebrate. Don't forget to include lots of ice, mixers, non-alcoholic drinks, and water. Food and snacks are a good idea too, and will help soak up all that alcohol.
If you have the space, throw the party at home. That way, you won't have to worry about traveling anywhere after one too many. There are also plenty of great birthday party venues you can look into to host your party.
Alt text: Top down view of three people on floats in a pool with Happy Birthday spelled out
3. Have a pool party
It's one thing to have a birthday party. It's another to have a birthday pool party. Take your celebration up a notch with a wet and wild pool party. If you don't have access to a pool at home, you can always book a cabana at your favorite hotel pool for the festivities. Just be sure to stay hydrated if you're going to be seriously day-drinking in the sun.
4. Cruise around on a party bus
Want to party as you cruise around town? Then a party bus is the way to go. They come in all different sizes, so there's plenty of room for your gang, whether you're 15 or 50.
You can break up the journey at different bars or clubs around town, or just drive around with your party on the go. Add in some music and entertainment, and you may never want to leave the bus. It's a great way to celebrate, without worrying about driving or getting around.
5. Go on a booze cruise
If you live near a lake or the ocean, book a booze cruise to help you celebrate your big day. Enjoy the breeze in your hair, the sun on your face, live music, and plenty of tasty adult beverages with your closest friends. If you'd rather not mix that much booze while being out on the water, you can ditch the booze part and just enjoy a nice daytime cruise.
6. Gamble at a casino
You can also gamble now that you're 21. Hit up your nearest casino to take advantage of that fact. Want to go extra? Plan a trip to Las Vegas. Try your hand at some slot machines or a table game or two. You'll be offered free drinks while you gamble, so you can kill two birds with one stone.
Alt text: Closeup view of cards, dice and chips on a black surface
7. Visit a theme park
Theme parks are not just for kids. Plenty of adults enjoy the thrills and adrenaline rush. What better way to celebrate being an adult than riding the most extreme rides the park has to offer? Since you're 21, you can also drink. But be careful about downing too much booze then going on certain rides — your stomach may not be happy about the combination!
8. Enjoy a boozy brunch
There's no reason you have to wait until the sunset, or even the afternoon, to celebrate the big 2-1. Get a jump on festivities by holding a boozy brunch, complete with bottomless bloody marys and mimosas. Just be sure to have plenty of food as well, or you may find your celebration ending before it really gets going.
9. Go wine tasting
Keep it classy by attending a wine tasting. Learn all about terroir, flavor profiles, and the winemaking process, and maybe find your favorite vintages along the way. If you happen to live near a wine-growing region (looking at you, California), go on a winery tour instead. If beer is more your thing, go on a brewery tour instead and sample some flights of local brews.
10. Take a bartending class
You can drink now. Why not learn how to make tasty drinks properly to celebrate your big day? Many bars offer bartending or mixology classes. Have a group join you and see who can make the best drinks or has the most flair. Alternatively, you can take a virtual bartending class. Grab all the booze and mixers you need to follow along and make a party out of it.
Have fun and be safe when celebrating your 21st birthday
Turning 21 is a big deal. And chances are, there will be plenty of alcohol involved. And while it's important to have fun, it's also important to do so in a safe and responsible manner. Pace yourself with your drinks, especially since this is all new to you (and your body). Don't drink on an empty stomach, and be sure to have plenty of water in between rounds. Celebrate responsibly, and make lasting memories of the day you became an adult!