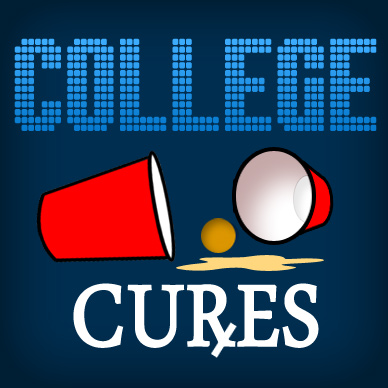 Get in. Get out. Graduate.
College Cures is your one-stop resource for all things college! From parties and hangovers to midterms and studying, we have the advice, tips and solutions to get you through it… one College Cure at a time!
Founded in 2010
College Cures is your guide to life in college and beyond. A resource for advice, tips and solutions to everything you'll encounter when going to college. From parties and hangovers to midterms and studying, we've got you covered. We're your college life advisors.
---
What You'll Find Here
Resources for college advice, tips on college life and everything you need when going to college. Information on college relationships, student loans and college admissions to student credit cards and grants.
---
Our Mission
To make your college experience as easy and pain-free as possible by giving you the 411 on all things college! We've been there, and we've certainly done that, so why not take it from us?
College Cures covers a wide range of college-related topics with unique tips and solutions to each, so no matter what it is you are seeking, we've got the smarter, better, faster answer.
---
Contributing Writers
The goal is to simplify, guide and improve the college experience (before, during and after) for young people across the globe as they traverse one of the most confusing and difficult few years of their lives.
As our content and name circulates around the web we know the efforts of our contributors and development team are crucial to the success of our brand.  This is the showcase of our Contributing writers, a well equipped and blossoming media team with great aspirations and a promising future ahead.
We're happy to have them on board and we look forward to sharing their ideas and articles with our readers.
---
Looking for exposure, industry experience and insights on what it takes to run an online publication? This is the place for you!
Are you a student or recent graduate who loves to write and wants to learn more about online media? Looking for an opportunity that doesn't involve crazy bosses and coffee/lunch runs? Think you have what it takes to write for a website AND help it turn a profit? Ambition Insight wants you on the team!
CollegeCures.com, a website featuring advice, tips and solutions for all things college-related, is looking for a few hard-working, ambitious, and creative writers to write articles, market the site via social media, perform marketing tasks, and get a better understanding of what it takes to run a successful website.
Click here for more info on how to  Join the Team.