The benefits of instilling a positive attitude among your lifestyle and general outlook can create a realm that's merely limitless in opportunity – from enhancing health and longevity, happiness, career advancement, athletic performance, team building, and financial success.
Many are so clouded by the depths of their daily endeavors, which can often be stressful and time-consuming; weeding out what appears to be negative and placing it in a more positive light will not only improve your spirits, but moreover show you the power of positive thinking.  Do your best to root these vibes in all that you do and you'll soon find the foundation of your thought process much clearer – and your emotions, simply, happy.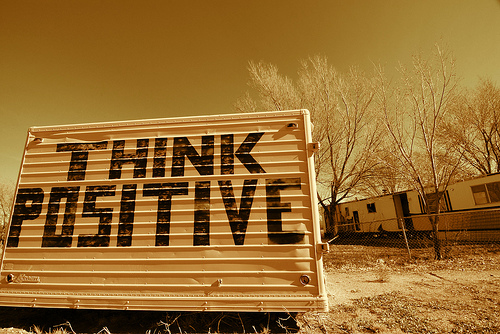 In college, you'll endure a vast evolution within yourself over the four short years as a student.  You'll recognize that the only way to learn about yourself and the world around you is through experience on many levels.  Some of these experiences may be difficult to handle at first, but depending on how you react and learn from it is what aids in defining your character and self.
No matter how traumatic a situation you experience, it is imperative to summon an outlook in which you can take positive and progressive steps towards rationally overcoming it.  Negativity is like a shovel through which you dig yourself a deeper hole, one you eventually find may take time to climb out of.
Negativity is a bad habit; an easy route to bask – a hard feat to hurdle.  The sooner you extract and embrace the positive, the quicker the negative depletes.