If you're like me, the summer before I started college, I wanted to procrastinate absolutely everything college-related.
I just could not accept that I was about to move on and that there were necessary steps I needed to take to be prepared. Learn from my mistake – you will want to be prepping for this all summer. Not only will you ward off stressful situations down the road, but taking these simple steps will help you mentally prepare for the big day.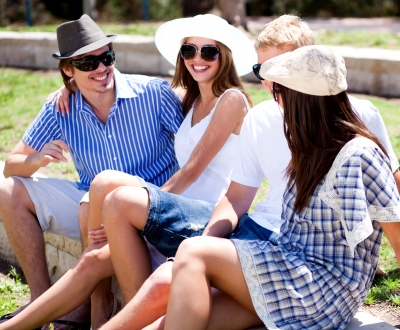 Here are some things you can be doing now (while your life is a lot less stressful) to aid you in the transition:
1. Collaborate with your roommate.
Contact your roommate and figure out what each of you needs to bring to the room. This is a way to not only save money but also to save space in the room. Do both of you really need your own microwaves? Probably not. Plus, this is a good way to form some sort of friendship with your roommate. After all, you will be cohabitating in the same room soon, so it's better get to know him or her now.
2. Go shoppping!
Be on the lookout for those amazing Bed Bath & Beyond coupons that are sent out in the bulk during dorm room shopping season – you will need them. Now that you've decided what you need to bring to the room, it's time to go buy all of it. This is not something you will want to procrastinate. You will be extremely stressed out the closer the big day gets and you don't want to be dealing with shopping when you all you want to do is bond with your high school friends before you leave.
3. Map out your class schedule.
As dorky as this sounds, this is something I wish someone had told me to do. After visiting campus for my orientation, I started to realize how huge my university was – and that I hadn't thought about that when I made my schedule. Make sure that you will be able to easily make it to your classes in the time frame you are given. A 15-minute mad dash across campus between classes on MWF is going to get old after a while and you'll want to avoid this if you can.
4. Scope out the area.
If you don't live too far away from your future school, try to make a daytrip or two to get more acquainted with campus and the surrounding area. Find out where the cheapest gas station is, where Wal-Mart or Target is and of course – where you can find late night food. Find the buildings where your classes are, where the recreation center is and of course, where the food court(s) is/are.
5. Take steps toward independence.
Although you've most probably leaned on your mom and dad for support the past 17 or 18 years of your life, it's time to (slowly) begin to cut the cord. It's OK to take baby steps in this transition, but there are a couple things you need to learn before leaving the nest. The biggest one? Learn how to do your own laundry if you haven't already. Your wardrobe will thank you later. Take control of your life now or you will be wigging out once your parents aren't there to hold your hand.