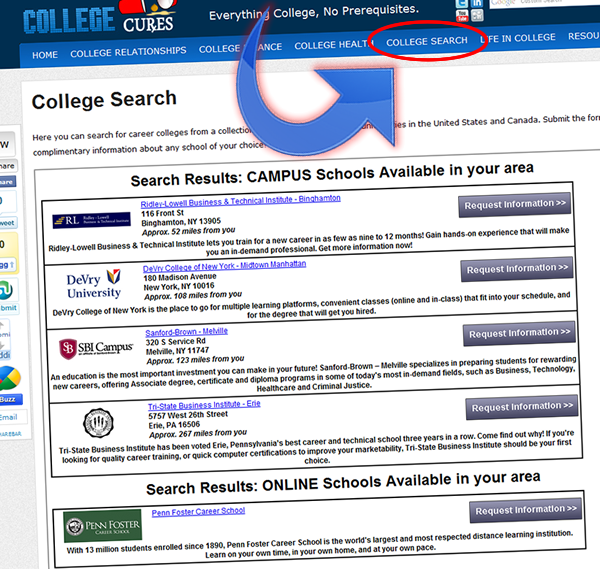 Did you notice the College Search section here on College Cures?  Now you can easily search our growing database of thousands of colleges and universities that might be perfect for you.  You can even browse Online Schools related to your program.
It's really simple, follow these easy steps:
Head over to the college search section by clicking "College Search" on the top menu
Select your Program of Interest and the State.
Click the Search button
Easily browse colleges and universities that match your search anywhere in the United States!
Click the "Request Information" button on the colleges, universities or online schools of your choice
Fill out the SAFE and SECURE form right here on College Cures with some basic information and click "Submit" (you never even leave our website!)
Within 2-3 days you'll be contacted by a representative for the school of your choice with more information and details to help in your decision and application! SUCCESS!
Enjoy that you just took a another great step towards your higher education!
Hopefully you'll find some great online schools and colleges in our database that satisfy your interests. Easily search a huge collection of college programs including Business, Architecture, Hospitality, Accounting, Dental, Medical Assisting, Nursing, Software Engineering and so much more.
Hopefully College Cures College Search can help you find the college program you're looking for.  Applications are tough, you have lots of decisions to make.  With our search, we do the work for you! All you need to do is browse and tell us how to get in touch, then we come to you! This is a great way to get the ball rolling.
Here are a few other great articles we have on college applications, getting ready for college, finding the right college and more.