By Lauren Joffe for The Real College Guide
Even after a couple of years at a school, students often realize they might be better off at a different university. Whether you're looking for a financial, social or academic change, transferring can be a feasible option if your current university just isn't cutting it. Let's check out exactly what it takes to transfer, from re-application to juggling credits.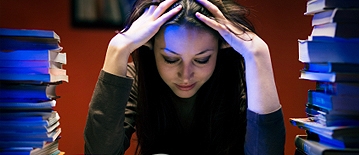 Choosing a New U
Map out exactly what you're looking for in your change. Says Laura Smart, current New York University junior who transferred from Villanova University: "I ended up transferring because I wanted to do nutrition and 'Nova didn't offer any programs. I loved my old school, but when it came down to it, I needed to change to a university that academically offered what I needed."
It might feel like you're back to square one, but you're actually ahead of the game. Since this is your second time around, you know exactly what to look for: majors offered, location, tuition …
Be sure to check into prerequisites.
Some schools will take only transfer students who have completed x, y and z.
Try creating a spreadsheet.
Create a spreadsheet with labeled columns for every quality you're looking for. Once you've chosen a handful of universities you're interested in, compare the pros and cons of each college, hopefully narrowing your selection down to a few promising schools.
Sneak in quick campus visits.
if possible, sneak in a visit to the school — by now you know that the campus environment can make or break your college experience.
There's an App for That

Perhaps the most tedious part of the transfer process is filling out new applications. And yes — that means rewriting that dreaded college essay! (Hey, you've done this before … and you now have the advantage of having taken actual college writing classes.)
Get organized.
This is key, especially if you're applying to more than one university. Sit down in a quiet location where you can focus, be it a coffee shop, bookstore or campus library. For every school you are applying to, make a list of what you need to submit: recommendation letters, FASFA forms, test scores, essays and so on.
Set deadlines.
It's almost impossible to get everything done in one day, so prioritize based on the real application deadlines. Leave yourself time to review, revise and proof. It's easy to get overwhelmed but remind yourself that this is simple: The hard part is waiting for a response.
Transferring Credits … or Not?

A significant setback can be non-transferable credits from your previous university. Many times, colleges will not accept class credits from your old school. The reasons can vary from the new school not offering any corresponding courses to non-accreditation of your previous classes.
Credit transfers are an extremely individualized process
Sometimes certain classes can be argued and petitioned. Discuss your options with a college admissions advisor.
Non-transferable credits can result in delayed graduation
which for some, means an extra year of unaffordable tuition. However, if you have AP credits or summer internships you can receive credit for, you might still be on track to graduate on time.
Being the New Kid in School

Sure, it was hard enough starting freshman year, but everyone else was in the same boat. Being that you are now one of few new students not entering as a first-semester frosh, it's gonna take extra effort to make new friends, join clubs and sift through a completely different set of rules, maps and procedures.
Says Bridget Charlton, current Syracuse University senior who transferred her junior year from the University of Colorado at Boulder: "The most difficult part of transferring was definitely finding friends, getting settled into the campus and feeling comfortable at the school. It's a completely different atmosphere, especially when you're older because most everyone has already made their group of friends."
When Transferring
Isn't
an Option
No escape clause? Whether you didn't get into your desired school or your parents pulled the plug on your plans, it's still in your power to make a change with the two options you've got left:
Option 1: Make it work.
If it was because you were unhappy socially, join new clubs, attend different parties and befriend other students. If it comes down to your major, set up a meeting with your class advisor and discuss exactly what it is you'd prefer to study. It's likely your advisor can point you in a more interesting, fulfilling direction.
Option 2: Take a break.
Some students opt for a temporary leave of absence to sort out finances, explore other interests and realize long-term goals. Take some time off from school to volunteer abroad or gain on-the-job experience. Opportunities are infinite — it's up to you!