We've teamed up with Sony to share our review of the all-new Sony Vaio S Laptop!
This post is part of program called "Charged and Ready" by Sony Electronics and Microsoft, where a group of college bloggers have been given a Sony VAIO-S series laptop to test and review.
College Cures, along with dozens of other websites in the college blogosphere have teamed up with Sony, the world's 5th largest media conglomerate, a leading manufacturer of electronics for businesses and consumers and one of the most comprehensive entertainment companies in the world, according to Wikipedia.
Sony was generous enough to send over their brand new S Series laptop for us to review; it just hit stores last week and is engineered perfectly for today's college student and young professional on-the-go.
Here are some quick specs of this machine from Sony:
Intel® Core™ i3, i5 or i7 processor for visibly smart performance
Genuine Windows® 7 Home Premium. Other Windows editions available.
Up to 15 hours battery life (with optional extended sheet battery) *
Backlit keyboard
Exceptional 13.3″ anti-glare display with LED backlight
Available SSD for rapid boot-ups and quicker application access
AMD Radeon™ with up to 1GB VRAM offers premium performance
Intel® Wireless Display (stream content to your HDTV)2
Available Blu-ray Disc™ drive
USB 3.0 technology (transfer data up to 10X faster than USB 2.0)
As I continue to use this fresh new laptop over the course of the next few months, I'll be sharing my experiences with you both good and bad. Since I've only had a short time to use this new laptop I will share my first impressions, true and HONEST feelings about this machine. Though we've developed a business relationship with Sony, we'd like to insist that they have in no way enticed me to write a positive review but instead informed me to share my honest and true opinions with our readers. So, here are my first impressions.
It's like a small stack of papers
This thing is light as a feather. The screen is paper-thin and the overall weight of the machine is less than 3 pounds. No more dragging around a bulky laptop, this thing fits perfectly into your life because you barely notice its even there.
Goes anywhere
Go ahead and rest this puppy on your lap, it's so tiny and lightweight that you'll barely notice it. It doesn't make much noise at all and even after prolonged hours of use I never felt this laptop get very hot.  My main computer is another Sony Vaio laptop, but the larger screen and extra features usually leaves it a little warm at the end of a long session. This new Sony S series stays cool and light throughout your experience, making stress from writing long term papers a thing of the past.
Backlit keyboard
Your Macbook doesn't seem so sweet anymore! The backlit keyboard on this Sony Vaio S is sleek and futuristic but also helps to keep you discreet in a dorm room while working in the wee hours of the night.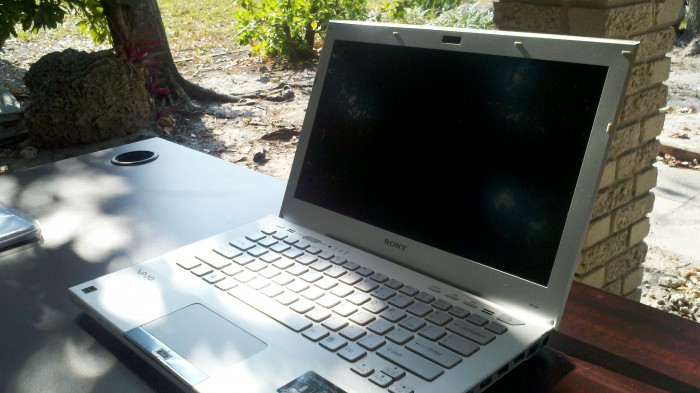 13.3″ anti-glare LED backlight screen
Large enough for DVD's, online videos, gaming and lastly, homework. This screen is crisp, perfectly sized for a laptop on-the-go and exceptionally clear.  LED screens conserve battery life and provide and clearer display. This is a huge plus about this machine.
All the premium features of a larger laptop, compacted
3 USB drives (using USB 3.0), DVD player, CD burner, 3 USB slots, HDMI-out and all the inputs necessary in a busy college lifestyle.  This laptop is great to carry around but also completely capable of wiring up many devices while it sits on your desk at home or in the dorm. You won't find yourself looking for an extra USB slot at 4am before a big exam or wishing there was an HDMI-out so you could connect it to your TV at a party.
Supports Intel Wireless Display
Ok this is pretty sweet. You can wirelessly display what's on your laptop on your television through your Sony Playstation 3 or XBOX using the Intel Wireless display.  No more bulky wires or keeping an eye on party-goers so they don't swipe your laptop when streaming music at a party.  You can hide this bad boy out of plain sight and stream directly to your television – no wires!
Quick boot up
One of my favorite features is how quickly the laptop boots up. Before your professor turns around, you're booted up and analyzing Excel spreadsheets (or opening Facebook.)
Exceptional Battery Life
With the optional extra battery, this computer can last for up 15 hours* without a charge! This is exceptional news for any college student.
You can forget the charger at home and still compute all day long and stay on top of your work.  Cluttered library? Not enough plugs in the classroom? Need to work on the bus or subway? Forget your charger at a friend's house? Not to worry, this thing will keep you going for hours.  Even without the extended battery, above average usage will still give you around 4 hours of battery life.
Speed and Stamina
In addition to the long battery life, there is a great feature on the keyboard where you can toggle between "Speed" and "Stamina" for the laptop's battery.  Stamina is a setting you might use when typing a long paper, listening to music or filling out a document. Then when you need extra power for games, graphics or an intense work session you can toggle between modes instantly, without even interacting with the software.  This is a great feature that I personally have never seen on a laptop keyboard.
Awesome software features I haven't even discovered yet
Another cool thing about this laptop is I keep discovering new features. A built-in fingerprint sensor allows this computer to be completely locked from everyone but you. In addition to the security, come to realize this fingerprint sensor can be used for even more. For instance, you can use the fingerprint sensor to act as the "password" for your favorite applications, websites and social networks. For instance, you can set the fingerprint sensor to launch and log you into your favorite websites.
When you swipe your right index finger, for example, it can launch and log you into Facebook, Twitter and YouTube. Then you could swipe your right pinky and open up LinkedIn, Gmail and your Google homepage.  The software interface is drag and drop and this is an awesome feature that acts like a secure jump menu, controlled by only YOUR fingerprints. Pretty cool stuff.
Versatile, long-lasting and completely mobile
I honestly feel that this laptop couldn't be engineered better for a college student. It's lightweight, lasts forever, has time-saving and college friendly features that would surely benefit a college student in numerous ways. Plus, my personal experience with Sony products have taught me they are well made, powerful and lasting. The technology, computing power, memory, screen and overall experience is sleek, well designed and will continue to meet technical requirements for most of your college career.
I look forward to continuing to share my experience with this Sony Vaio S laptop over the coming months, in addition to my experiences with Microsoft Windows 7, Adobe Creative Suite 5 and some other great products that I feel can help college students around the world.
Check out https://www.sony.com/batteryoffer for more details about this laptop
Engage with Sony and see how their suite of products can tremendously help your college lifestyle
https://blog.discover.sonystyle.com/
*Estimates based upon Sony engineering testing. Actual performance varies based on configurable options, settings, environmental conditions, and usage. Battery capacity decreases over time and use. Combination estimate based on included standard battery and extended life battery sold separately.