Looking to liven up your Thursday or weekends with some fun, flavorful (and colorful) shots? Get in on the fun by trying some of these unique recipes sure to add a twist to any party or pre-game!
You don't have to buy a whole bottle of liquor to try them either; most of these items can be bought in nip size, so you can try one or all of them!
1. Snow Cone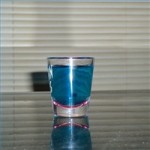 – 1/2 ounce BlackHaus Liquor (Blackberry Schnapps)
– 1/2 ounce Blue Curacao
– Splash of Lemonade
– Splash of Sprite
– Ice
When making this shot, you should use a shaker, but since I'm not fancy, you can rig one using a glass and any flat object to cover the top of the cup or glass.
Fill the glass halfway with ice, pour about 1/2 ounce blackberry schnapps, then 1/2 ounce Blue Curacao. Add a splash of lemonade and a splash of sprite. Shake up your shot and pour into shot glasses!
2. Windex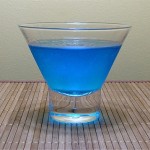 Nothing says delicious like this blue, cleaning solution look-alike! Liven up your Thursday or weekend with this brightly-colored shot, no clean-up necessary.
2 parts Vodka
1 part Triple Sec
1 part Blue Curacao
As always, start with a glass filled halfway with ice. Pour in two parts vodka, then add the triple sec and Blue Curacao. Shake up the mixture and pour into clear shot glasses!
3. Gasoline
Simple, strong and full of power. Enjoy this shot with friends at home or at the bar; with a name like Gasoline, it's sure to boost you into overdrive.
– 1 part Tequila
– 1 part Southern Comfort
No need to add ice or use a shaker with this shot; simply pour the two liquors into a shot glass at the same time and distribute them evenly. Serve at room temperature!
4. Bloody Bastard
This shot may sound gross, but upon reading the ingredients, it sounds pretty good! If you like cinnamon, spicy shots, this one is definitely for you!
– 2 ounce Red Bull
-1/2 ounce red grenadine
– 1 ounce AfterShock Red Cinnamon Schnapps
– 1 ounce Absinthe (or any Licorice-flavored liquor)
Combine all of the liquors into a glass and shake while covering the top with a lid. Next, pour in the ice, grenadine and Red Bull, shake, and pour into shot glasses!
5. Drunken Pharaoh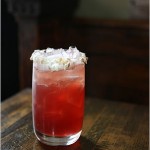 Party like royalty with this shot! I am assuming the name is in reference to the Goldschlager, which is a cinnamon liquor infused with real gold flecks…fancy, I know. Pick up a couple of nips of Goldschlager and the two brandy's and you will be on your way!
– 1 part Brandy
– 1 part Goldschlager
– 1 part Blackberry Liquor
Grab a couple of shot glasses and pour the three ingredients in, distributing them all equally.
Like these recipes?
Check out more from Alex's Cocktail Recipes, DrinksMixer.com, and Mademan.com !