No one can deny that nursing is one of the most in-demand professions nowadays, and this demand seems to be growing continuously with time. It means that anyone who sets out to pursue this career path can expect an attractive salary package, numerous career opportunities, and plenty of growth prospects in the future.
However, if you are a nurse considering which nursing specialty is right for you, the decision isn't always so easy. With various types of nursing jobs out there, just weighing all your options can prove to be a time-consuming task and one that can easily make your head spin!
Fortunately, we are here to help make your search easier. Here are some of the fastest-growing nursing specialties of today, along with their average salaries and job outlook as per the US Bureau of Labor Statistics.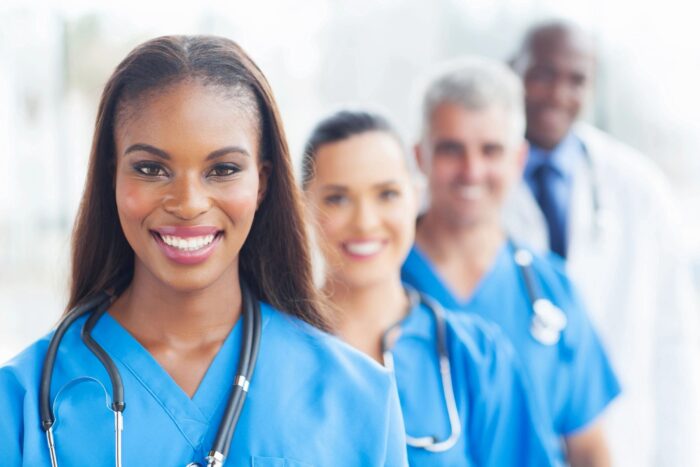 REGISTERED NURSE (RN)
Expected growth in job opportunities: 12%
Registered nurses are responsible for providing patient care, educating patients about their health condition, and providing emotional support to patients and their families. These professionals work in hospitals, nursing care facilities, outpatient clinics, and home healthcare facilities. RNs require a bachelor's degree or associate's degree in nursing along with a nursing license to practice.
CERTIFIED REGISTERED NURSE ANESTHETIST (CRNA)
Expected growth in job opportunities: 26%
CRNAs are highly-trained nurses responsible for the administration of anesthesia during surgeries and other medical procedures. These nurses earn some of the highest salaries in their profession, due to their high demand and detailed training requirements. CRNAs usually work in emergency rooms, intensive care units, and operating rooms of all kinds of healthcare settings. To become a CRNA, you need to obtain a Master's of Science in Nursing degree (MSN) or Doctor of Nursing Practice (DNP), a registered nursing license as well as complete an accredited nurse anesthesia program.
If you want to work as a CRNA but not sure whether to go for MSN vs DNP, then you must opt for a DNP program. Because all nurses looking to practice as CRNAs will be required to hold a DNP by the year 2025.
NURSE MIDWIFE
Expected growth in job opportunities: 9%
The work of a nurse-midwife revolves around women's health issues. They encourage women to participate in preventative screenings and testing to ensure their physical well-being. Moreover, they guide women about matters related to their sexual health, such as family planning and contraception methods, as well as suggest treatment for gynecological disorders such as sexually transmitted diseases and infertility. They also assist with labor and delivery and provide postpartum care and lactation counseling. A bachelor's or associate degree, along with a nursing license, is required to work as a nurse-midwife.
NURSE PRACTITIONER
Expected growth in job opportunities: 36%
Nurse practitioners provide advanced-level care; they can diagnose health conditions, prescribe medicines, and initiate treatments. While some NPs work under the supervision of a physician, others may have significant autonomy to perform many of the duties performed by a physician. They work with kinds of patients and serve on the front line in providing patient care in many situations. An MSN or DNP is a requirement to work as a nurse practitioner.
ONCOLOGY NURSE
Expected growth in job opportunities: 12%
Oncology nurses provide care to patients receiving cancer treatments. They monitor their condition and symptoms, prescribe medication, and assist with chemotherapy and radiation treatments. Although this position can be emotionally challenging, most oncology nurses find it very fulfilling to care for someone battling the disease as severe as cancer.
Most oncology nurses work in hospitals providing cancer treatments, but they may also work in physician's offices or provide in-home care. An associate of bachelor's degree is the minimum education requirement to work as an oncology nurse.
PEDIATRIC NURSE
Expected growth in job opportunities: 26%
Pediatric nurses specialize in caring for children of all ages, from infancy up until their teenage years. They perform physical examinations, prescribe tests, and measure symptoms. Those with advanced training may also interpret test results, diagnose health problems, and suggest treatments. Most pediatric nurses work in doctor's offices, but they can also work in surgical centers, hospitals, and community centers that work for the well-being of children. An associate or bachelor's degree is the minimum education requirement for most pediatric nurse positions.
CONCLUSION
Nurses have an essential role to play in the healthcare industry, and this can never change.
While there are plenty of other nursing specialties you can pursue, these are some of the most demanded ones. Many of the nursing professions are currently facing a severe shortage due to the rapid increase in the elderly population requiring healthcare services. It means there is no better time than now to work as a nurse. Regardless of which nursing specialty you pursue, you can expect to make a decent living for yourself. So, if you are looking for a career in nursing for yourself, go for it without any doubts – once you enter the wonderful world of nursing, you are very likely to love every minute of it.