If you're a college student who needs a source of income, you're not alone. According to a study, more than 70% of college students have chosen to work while attending school. With the rising costs of tuition fees, student loans, and the day-to-day cost of college life, it's no wonder that students are striving to find ways to earn and save money on everything. While most turn to retail, tutoring, or other side jobs to make ends meet, there are other ways to earn extra income, such as busking.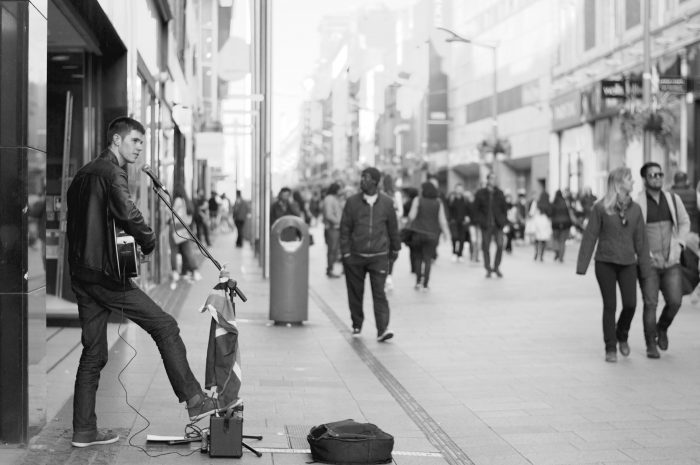 If you have the musical chops for it, you can certainly pursue your passion for music and get experience showing off your craft while earning good tips from your audience. Busking can even pave the way towards a music career as some of the most successful singers got their start while performing in the street. Take "Fast Car" singer Tracy Chapman who, as a student at Tufts University, would take her guitar to Harvard Square to play and perform for the people there. Ed Sheeran also started busking at a young age while he was living rough in London. If you want to make the most of your talent and start earning money, here's what you need to know about how to successfully start busking while in college.
Choose your instrument and take the time to practice
The right instrument can help to make your street performance go smoothly. A quality acoustic guitar for beginners or experienced players is ideal as it's highly portable and makes moving around from location to location a cinch. Make sure to tune your instrument before every performance and to check the sound quality. Take the time to practice so that your playing looks effortless. Mastering your instrument also enables you to connect with your audience while you're performing.
Look effortlessly cool
After you draw people in with your playing and your voice, the next thing that they'll notice is the way you look. There's no need to don leather pants and eyeliner to look like a real musician. All you need to do is to nail the effortlessly cool look. Simply put, it's trying to look good without looking like you're trying at all. Start by being well groomed and wearing clothes that fit your body type. Go for simple, casual clothes. A plain white t-shirt under a jacket worn with denim jeans and paired with combat boots or a classic pair of sneakers will always look good on anyone.
Play familiar songs but vary your playlist
You may be itching to debut an original song while performing, but to draw a crowd, you'll need to please your audience and play familiar songs. Hearing your audience sing along is always a good experience for any musician and it's even better when they're putting bills inside your guitar case. Consider putting an acoustic spin on a hip-hop or an R&B song or go upbeat and lively with a pop ditty. Prepare to take requests by learning different songs during your free time. You should also take care never to play the same three songs over and over again day after day if you want to keep your audience engaged.
Lastly, remember that you're performing not only to earn money, but also to share your music with people. Smile and have eye contact with your audience and be in the moment. Be yourself and have fun. Sending out good energy throughout your performance will certainly win over the crowd, help you earn money, and have a good time while you're busking.