With syllabus week over and back-to-school in full swing, now is a perfect time to highlight an easy, time saving and space saving essential that simplifies college living.
Let's be honest, laundry is a pain in the you know what. But your life is about to get easier with All's new Powercore Pacs. The great folks at All just sent us a few samples and we're already loving the simplicity, the space saving, the convenience, and most of all – the effectiveness.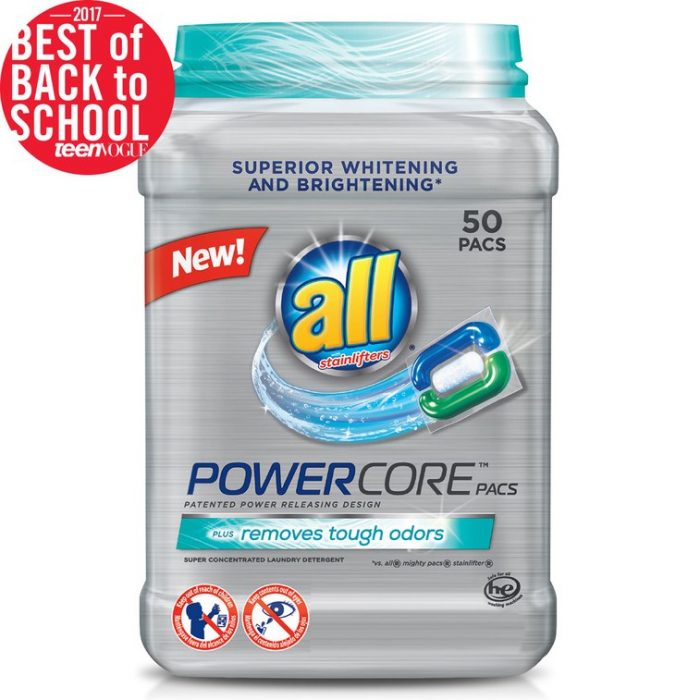 Teen Vogue has just featured 'all POWERCORE Pacs in their 2017 Back to School Awards featuring dorm ideas and the best of back to school.  Doing laundry on your own is a rude awakening and 'all makes the job a cinch: small packs replace space cluttering detergent bottles and can easily pop on your laundry bag to be carried to dorm machines, and the strong formula leaves clothes fresh and stain free.
Check out this short clip:
All's most advanced laundry pacs yet.

It's a powder! It's a liquid! It's… both! Introducing new all® POWERCORE® PACS, our brightest idea yet.

For the first time, liquid and powder come together in one revolutionary laundry pac that delivers an astonishing clean for every load. Plus, it keeps clothes whiter and brighter *. Toss one in and witness the power of POWERCORE® PACS!

Change the way you laundry!
Post Sponsored by All