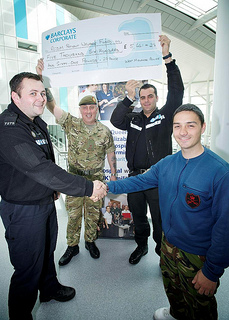 In his capacity as the chief commercial officer and executive vice president of sales and marketing at CSX, Clarence Gooden has been an instrumental figure in positioning the company as an excellent source of employment and career opportunities for American military personnel who are currently transitioning to the civilian work force.
Military Skills Translate To Career Opportunities
Men and women who have served in the United States Armed Forces (Army, Navy, Marines, Air Force) have qualified themselves to serve in many exciting and financially rewarding careers within the transportation industry. For example, if a person has served as an officer or senior NCO in any branch of the American military, they may be eligible to achieve senior management positions at CSX that will make optimum use of their acquired skills.
Putting Military Skills To Civilian Use
As a leading player in the American transportation industry for over a century, CSX has long had a guiding hand in helping American military service personnel to translate their skills to civilian use. For example, after the Second World War, many officers and soldiers found themselves returning to a country whose industrial capacity had increased by leaps and bounds during the conflict. As a result, new opportunities within the transportation industry had opened up and naturally required thousands of qualified individuals to fill these positions.
Although the era of world wars has now passed, there is still a pressing need for the sort of skills and native ingenuity that the military is an excellent source of. Service personnel who have served in such vital areas as communications, combat engineering, security, and transportation will find plenty of scope to employ their skills in the civilian world.
Qualifying For Civilian Employment At CSX
As a concrete example of how professional skills acquired during service in the armed forces can translate to lucrative civilian employment, consider the example of an individual who served in the military police (MP) of the Army. While, at first glance, such acquired skills may seem more likely suited to transition smoothly into civilian law enforcement, there are other opportunities available in the freight and transportation industry that just might prove to be more rewarding.
A former member of the Military Police can find excellent scope for their skills at CSX. Because the company is responsible for the safe transportation of hundreds of thousands of items per day, the need for qualified and experienced security personnel is very great. An individual who possesses these skills will naturally find themselves in a position to offer their expertise in exchange for excellent pay and benefits. A qualified individual can rise to a senior management position in a relatively short amount of time.
A Life Time Of Opportunities
Of course, the example listed above is only one of many. People who are transitioning from military to civilian life can expect to find a wide and comprehensive range of career opportunities at CSX. This is only one of the many reasons why CSX remains such a vital player in the transportation industry. The company's commitment to the brave individuals who have served our country in its time of greatest need deserve every opportunity they can get to transition to a rewarding career in civilian life. CSX is proud to be among the very best providers of such opportunities to our returning heroes.
photo credit: Day 115 – West Midlands Police – Cheque Presentation for wounded soldiers via photopin (license)