Used textbooks are heavy. They're also a waste of space. But more than anything, used textbooks are an opportunity to recoup some cash. So sell them with ValoreBooks, where your used books are worth more money. ValoreBooks offers instant online price quotes, free shipping, and fast payment. Plus, when you sell today, ValoreBooks will even sweeten the deal with a free puppy! That's right, a puppy! Of your own choice! For free!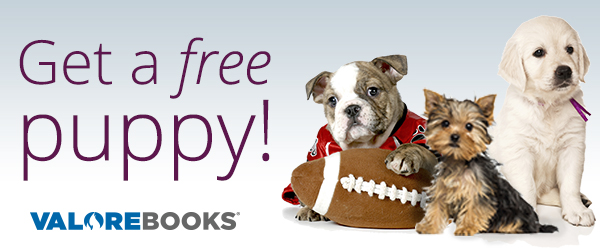 They've got retrievers with cute little faces and long golden hair. Like Rapunzel! Their retrievers are good at playing fetch and carrying newspapers in their mouths, and they come with a running leash so they can accompany you on all of your adventures.
They've also got bulldogs! You know, in case you need a best friend that parties hard and loves nothing more than lazy days on the couch. The bulldogs also double as a headrest for use during afternoon naps.
Last but not least they've got Yorkshire Terriers for those of you who want a dog small enough to put in your purse. Or your backpack, for that matter. Their yorkies are trained to be very quiet, so they're easy to sneak into class or the library. Think: best study buddy ever. All dogs are potty-trained and promise not to poop during shipment. That way they'll smell nice when you get them!
So why not sell your used textbooks today? Online quotes are instant, shipping is free, and you get paid more money way faster! Plus: free puppy!