Adjusting to college life can be difficult for any incoming freshman. Finding your stripes becomes a whirlwind of establishing a circle of friends, being out on your own for the first time in your life and balancing your studies with all other aspects of life. If you think that is hard enough at the typical age of 18, imagine having barely had your drivers license for more than a few weeks.
For Petra Zarrah Jarrar the process was even more difficult. Being just 16 years-old when enrolling at The New School in New York City proved to be an arduous task. As she described in an interview with The New School Free Press:
I remember logging onto Facebook the very day I was accepted and removed my birthday from my profile, so that when I started friending people from my college, no one would discover the truth. I have no idea what made me so ashamed of letting people know who I truly was. I didn't feel comfortable in my own skin. I concocted a plan to portray myself as the 18-year-old girl everyone assumed that I was.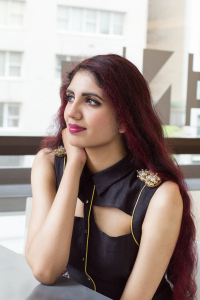 In order to fit the part, she began with the physical portrayal, donning dark eye-liner, bright lip stick, and low-cut crop tops to help her look the part.
In an exclusive interview with USA Today, Jarrar describes what college life was like at 16, stand out memories, and advice for other students looking to enroll early in college.
While getting an early start on higher education might seem like the fast track to success, for Jarrar it was not without sacrifice. While supportive parents definitely helped throughout the transition, there were moments where the early enrollee felt conflicted about never having a teenage life and missing out on her high school prom.
For the full interview be sure to check out the complete USA Today article by clicking here.