Congratulations on your graduation! Your four years (or more) of hard work have paid off, and you should feel so incredibly proud to have that diploma in hand.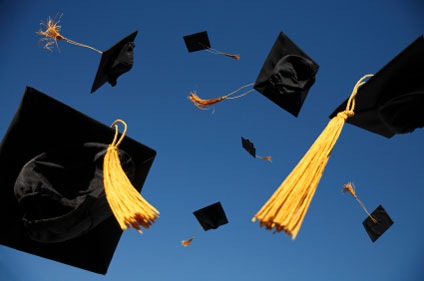 But once the festivities die down and your relatives start bugging you with questions about what's next, the future becomes a heck of a lot scarier if you don't have any specific plans.
If you aren't lucky enough to have landed a job after graduation, don't freak out quite yet! You've got your whole life ahead of you, so don't be heartbroken that you couldn't land something right away.
Here's some advice on what you can do in the meantime as you wait for the right opportunity to come along.
Talk to your contacts
A contact could be anyone from a friend of your parents to a peer who just landed a job. Start talking to anyone and everyone and let them know what you're looking for. While you might not find exactly the right fit, you could find a job that will keep you happy in the interim (and allow you to pay the bills) as you search for your dream job.
Check out internships
Don't rule out interning just because you've already graduated. There are many internships out there available to recent graduates, so make sure you complete a thorough search. If you're lucky enough, you may even stumble upon a paid internship! Check out Intern Queen for ideas on where to apply.
Work on your resume/portfolio
Take this time to really dig your heels in and take a long, hard look at your resume, cover letter and portfolio. You may even consider starting the whole thing from scratch if you don't feel like you're getting enough of a response from potential employers. Make sure your resume is free of grammatical errors and that you're able to use action verbs whenever possible. With your portfolio, make sure that it's easy to read and navigate and displays your best work. Ask as many people as possible to look over your resume/portfolio to get some feedback. It's good to get as many eyes as possible!
Find a part-time job
If you don't have anything going on, you might as well find a part-time job to save up money for your future. While it sucks working somewhere that wasn't the job your dreams, you will at least be making some money. Another advantage is that you'll still get to enjoy your summer since you're only working part time. Save as much of your earnings as possible. It will come in handy if you're moving to a new city for your job or if you need an apartment deposit down the road!
Enjoy your time
Why run straight into the real world anyways? While you don't want to remain unemployed forever, there are a few perks to having some time off before diving right into a 9-to-5 gig. If your parents will allow you to crash at their house for a few weeks, take the time to really enjoy being around your family. You never know where a job could take you, so enjoy being surrounded by them for this moment.