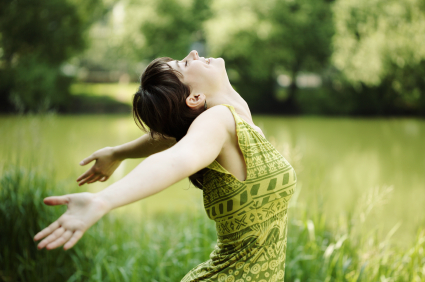 Spring has officially sprung, and it's time to ditch your dorm room and get outside.
Although you probably want to get outside to start working on your tan, the health benefits of being outdoors also include lowering anxiety and stress levels. And, from my point of view, it just makes you feel happier.
While there are "exercise nuts" out there who spend their time outdoors running multiple miles, there are still plenty of things you can do outside that don't necessarily involve exercise.
1. Study in the sun
Hanging out in a poorly lit library is depressing. Why not soak up some rays and enjoy the nice weather while you study instead? Grab a blanket and study on the quad or hit up your nearest coffee shop with outdoor seating. No matter what your campus is like, there is probably somewhere to sit where you can enjoy the sun and catch up on the hundreds of pages of reading you've got to cram in before final exams. Being outside will definitely make studying a little bit more bearable!
2. Enjoy the water
If you're lucky enough to go to school close to the beach, you already know how fun it is to kick back and enjoy the scenery. But for the rest of us who are more than a few hours away from having the sand between our toes, alternatives will have to do. Do your research. Is there a lake or river nearby? Or maybe a state park with a creek? Does your campus have a pool? Figure out what works the best for you and enjoy some time with friends before the semester ends.
3. Host a cookout
Everybody loves a good cookout! Invite your closest friends and plan for a day of drinking and hanging out. Not only is this relaxing and low key, but it's also easy (and free) to find a park or a friend with a grill nearby. If you can, consider gathering around a fire as it gets dark and temperatures get cooler. S'mores are always fun, no matter how old you are! Here are some recipes to try!
4. Volunteer
No matter what your passion is – whether it's kids, dogs or nature – there is most likely an organization you can volunteer with that also helps get you outdoors. Stop by your campus Student Life office to ask about opportunities on your campus or use a website like Serve.gov to track down organizations in your community. If you're looking to add experience to your resume, try to find an organization that fits in your field of study.
5. Rock out
Outdoor spring/summer concerts are the best. I love being outside and listening to music, especially when I can have a cold beer in my hand. If you play your cards right, you may be able to find free concerts in your area at local parks when the weather gets a little warmer. Whether it's a band you're obsessed with or just a local act getting its start, enjoying music is always a great idea.
6. Work outdoors
Most of us have to find part-time jobs during the summer months, so if you can, find a job that allows you to enjoy some sunlight. I worked at a local amusement park for years because it allowed me to be outside and see the sun! Even though it wasn't the best job in the world, at least I felt like I was getting to enjoy the warm weather. Another possibility is heading to your local rec center with some bats from Easton and a little baseball knowledge and coach a youth team. If you're able to find a job that doesn't keep you locked inside away from windows, then do it.