Halloween is right around the corner and parties can keep going for weeks! It's fun to go to house parties or bars and dress up as someone (or something) else for the night.
In a perfect world, everyone would have the time and energy to plan ahead and come up with a ridiculously creative costume. In reality, many people wait until last minute to throw a costume together.
Maybe you procrastinated or just don't have the time during the busy fall semester to think about a costume. Whatever the reason, if you need a costume, there are some easy options.
Just because it's last minute, does not mean it can't be a great costume. To avoid stressing about a costume, make it simple.
If you're still in need of something to wear this year, consider these Halloween costume ideas:
1. Nerd
This is an easy costume because you don't need to wear a specific outfit and may already have most of the items. With just big glasses (with tape around the bridge), high socks and loose pants or shorts you can pull up over you waist, you will look like a nerd in no time!
2. Waldo or Wilma
You know you loved the Where's Waldo books when you were a kid. This is another fairly easy costume to put together. To transform into Waldo, simply wear a red and white striped sweater, dorky glasses, a hat and a big camera around your neck.
3. Dorothy
All you really need for a Dorothy costume is a blue and white checkered dress, red glitter and red bows. Decorate some old shoes with the red glitter and wear your hair in pigtails tied in bows. To add an extra cute touch, you could carry around a Toto stuffed animal in a small basket.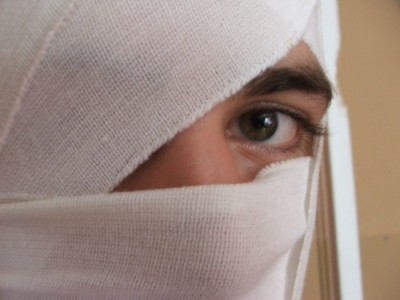 4. Blue Butterfly
You might be able to find affordable wings at Goodwill or, if you're feeling crafty, you could make your own! Make your own by cutting sheets of cardboard into wing shapes and painting them blue and purple. Get creative and make your own pattern. For the antennae,  glue googly eyes on krazy straws. Then glue the two straws onto a hat.  Once you have the accessories together, wear them with a blue dress or blue shirt and pants.
5. Cowboy or Cowgirl
Most college students already have a plaid shirt, jeans and boots. Now all you need is a cowboy hat! It's a simple, yet cute costume you can put together in minutes.
 6. Mummy
To turn yourself into a mummy, wrap first-aid gauze around your head and body. Then, add some blood spots around the head and on the face using red face paint.
These are just a few simple costume ideas that require only a few items to put together. Plus, most of these costumes include items you may already own. Whichever costume you choose, enjoy the time with friends and have fun this Halloween!