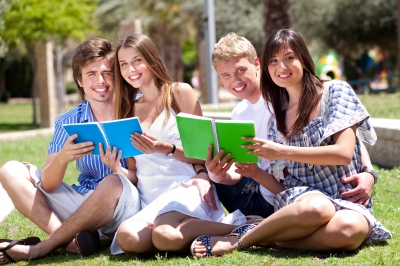 When the road gets rough or we start to worry about the future ahead– some of us turn to quotes.
Sometimes the words of someone we respect or an eloquently put together sentence can bring some light into a dark place.
A lot of guys and girls look to college quotes to plaster on their walls or just get them through one more science exam.
Here you'll find some college quotes that you can hopefully relate to.
Famous college quotes
"You have four years to be irresponsible here. Relax. Work is for people with jobs. You'll never remember class time, but you'll remember time you wasted hanging out with your friends. So, stay out late. Go out on a Tuesday with your friends when you have a paper due Wednesday. Spend money you don't have. Drink 'til sunrise. The work never ends, but college does."
– Tom Petty    
"For college seniors there should be a week of being allowed to cry. Just break down and cry because you are scared and don't know what's next."
– Bill Cosby
"I turned down a scholarship to Yale. The problem with college is that there's a tendency to mistake preparation for productivity. You can prepare all you want, but if you never roll the dice you'll never be successful."
– Shia LaBeouf
"I'm going to college. I don't care if it ruins my career. I'd rather be smart than a movie star."
– Natalie Portman
"If you tell folks you're a college student, folks are so impressed. You can be a student in anything and not have to know anything. Just say toxicology or marine biokinesis, and the person you're talking to will change the subject to himself. If this doesn't work, mention the neural synapses of embryonic pigeons."
– Chuck Palahniuk
"I was thrown out of college for cheating on the metaphysics exam; I looked into the soul of the boy sitting next to me."
– Woody Allen
"I've yet to be on a campus where most women weren't worrying about some aspect of combining marriage, children, and a career. I've yet to find one where many men were worrying about the same thing."
– Gloria Steinem
"In college I never realized the opportunities available to a pro athlete. I've been given the chance to meet all kinds of people, to travel and expand my financial capabilities, to get ideas and learn about life, to create a world apart from basketball."
– Michael Jordan
"The aim of a college education is to teach you to know a good man when you see one."
– William James
"I think everyone should go to college and get a degree and then spend six months as a bartender and six months as a cabdriver. Then they would really be educated."
– Al McGuire
"By going to the movies, and because of other things, too, going to college, making a wide variety of friends, moving around traveling, I became a lot more open-minded than the heritage I was born into might have suggested."
– Roger Ebert
"College isn't in everyone's hearts. I am living proof, though, that school doesn't mess up your plans. It gives you more experiences to write about."
– J. Cole
"I miss college."
– Tiger Woods
"I think I really benefited from going to college."
– Kareem Abdul-Jabbar
"I think I'm mostly looking forward to the college life. I'm looking forward to more freedom. Here everything is really structured and scheduled, but in college you've got to be more responsible and you can get things done on your own time. I'm really looking forward to that."
– Nerlens Noel
Are there any great college quotes that you love? College is an awesome four (or more) years of your life. We want to hear about your own college experiences that turned into college quotes. Or just some of your favorites.
Tell us about them in the comments below.