Upon moving back home to the East Coast, I realized how many opportunities there are in the Greater Washington, D.C. Metropolitan. I mean, yes there were opportunities out in Colorado for student job seekers, but the amount of jobs & internships (many of them are paid) in the D.C. area for students are endless; you just have to know how to find them.
There is often a misconception that a majority of the jobs in D.C. and on Capital Hill are mainly for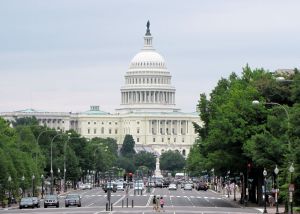 aspiring political mavens, but that isn't quite the case. The city, including the surrounding areas of Northern Virginia and even the suburbs of Maryland (you may even include the distant neighbor Baltimore) are booming with jobs for students interested in all aspects of the federal, state, and local governments. Oh yes, and I do mean jobs for students. The jobs in D.C. aren't only for the young buppies with degrees and adult professionals. If you're a student, you live in the surrounding areas of D.C., MD, or VA, then you're in position for some great opportunities.
Often people shy away from the word "government" when it's attached to the word "job," but don't be afraid of the job title. I used to often imagine boring bureaucrats slaving away at a computer for hours and sipping on a stale cup of coffee, but working for the government isn't quite that mundane as popular media have made it appear to be. I mean of course there are those hours of downtime in which things are just routine tasks, but when you look at the reality of the work you're doing (not to mention the great pay,) then working for the government isn't such a bad thing. D.C. isn't just filled with mindless government employees that lead boring lives. It's a city with booming job opportunities waiting for eager students to take a chance, apply, and be in the running for the start of a career that could be quite rewarding.
If you're not into politics, then that's okay. D.C. has so many branches of the government that deal with health, world aid, the arts, education, information technology, transportation, environment, law, and so many other fascinating areas of interest. The only reason many students may not know about these wonderful opportunities in the area is because: 1) they aren't asking, 2) they don't know where to look, 3) they don't  lead a boring life working for the government. But once you realize that your job doesn't have to be your everything, then working for the government can be quite a rewarding career.
So how do you get started? The best thing to do is to begin searching the Web for some information on different agencies in the government, then you can have a clear idea of what direction you'd potentially like to go. Yet, if you're still not sure exactly how to get started, then check out some of the tips below on how to find student jobs in D.C. and make yourself a potential candidate.
Research the different agencies in the government and have a somewhat general idea of what department you'd like to work for. The internship or job you get with one department doesn't have to be a lifelong career, so it's good to know what areas you might eventually want to transfer to. But if you snag an internship (most of them are paid) or job with a department you like right off the back, then you're all set!
Visit USAJobs.com. This is a number one spot for jobs & internships in the government across the nation, but especially in D.C. Set up a profile today! When you search for jobs simply type in student in the keyword and choose the location as D.C. Then you'll see a bunch of jobs come up. Apply in advance, because it takes quite some time for the applications status. I'm currently finally being reviewed for a few positions, and I applied months ago! https://www.usajobs.gov/
Take a Variety of Electives, Especially Business Writing. It's good to be well versed in various areas, and this will help you look impressive to various agencies. So it never hurts to take a variety of electives that cover various areas. But I do highly recommend taking a Business Writing Course. This class helped me learned a lot of things that I can use in the workforce, and it also gave me a passion for Technical Writing (reports, proposals, and grants.) So if writing isn't your best asset, then work on it by taking a class in Business Writing or Technical Writing.  Comes in handy when working for the government.
Be Patient. Applying for internships & student jobs with the government can be a lengthy process, so be patient. Be sure to keep checking back for new opportunities, but don't freak out when you don't hear back for a few weeks, even months. But when you do finally hear back, the process can be pretty quick. So be patient, but while you're waiting keep harnessing your skills, keeping your grades up, and be hopeful.
If you can't intern, then pursue a job after graduation. If you still haven't snagged an internship, then don't worry. The government has so many jobs, and college seniors should definitely be putting in their applications. Don't be too concerned with the internships, because once you graduate then you can land an entry-level job with the government and go in at a G4 or G5 level.