This is a Sponsored Review courtesy of ScholarRescue.com.
The folks at ScholarRescue.com asked us to review their operation. Here at College Cures we were delighted to discover they offer an outstanding service for students seeking help with their work. The one thing that I couldn't help thinking while learning about ScholarRescue.com, was that I wished there would have been something like this available when I was in college.
My major was print journalism with a minor in political science. I loved to write and hated math with a passion. I would sign up for one of those dreaded math classes I was required to take only to withdraw from the class in the second week and put it off to the next semester.
All will agree – including my boyfriend who witnessed my appalling mathematical skills on the blackjack table in Las Vegas recently –that I am awful at math. But if there had been some help at hand, I would have most likely stuck with those math courses. ScholarRescue.com could well have been the place for me to find help from other students and scholars and I could have made some money putting my writing skills to use there too.
Mark, the founder and CEO of ScholarRescue.com, walked me through the simple steps a student would take in order to be connected with the network of hundreds of scholars.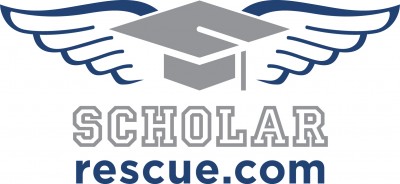 The first step is to create an account – a very quick and easy process. Next, a student is able to post any question they need help with.
When posting a query for the scholars, there is an option to upload documents that would assist in explaining the question further. The student also posts the due date and any other information necessary for completing the task.
As for the question, it could be anything from advice on a few homework questions, to help with writing an essay, to  having a paper proofread to… just about anything a professor can throw at you.
Once the question is posted, an instant email is sent out to scholars who can then bid on the "job" which means help is sometimes instantaneous.
Reviews of scholars written by past students are available to view which assists in the decision-making process if more than one scholar bids on a job. Once a scholar is chosen, the job is removed from the list and all correspondence between the scholar and student is private. When payment is made, ScholarRescue.com holds the money until the job is completed properly.
When the scholar is finished, they upload the work and if the student is satisfied ScholarRescue.com releases the funds and everyone goes on their merry way. However, if a student is not satisfied they can hit a button that allows ScholarRescue.com professionals to step in and arbitrate (which means refunding money or getting the scholar to fix the problems).
Another great aspect of ScholarRescue.com is that students who excel in a particular subject can become scholars. All they have to do is sign up and start bidding on jobs. In the beginning, the scholar has no reviews posted so this makes it a little tricky to secure work. But if you make your bids a little lower and do outstanding work, then soon you will be up there with the top scholars – some of whom have made more than $4000 since the website launched in at the end of 2011.
Scholars too can hit the arbitrate button if they feel something is amiss. However, Mark said many students are repeat customers and keep coming back for help with their work.
ScholarRescue.com is a great service that enables students to help other students. Not only can those who need help reach scholars, students who are top of the class in a subject can make some good money.  A great initiative and well worth exploring.