Ever wondered how to make a frozen margarita? We've got the recipe for you for this weekend or your next pre-game/party! Enjoy with friends, with a themed dinner, or make one for yourself after a long week!
This recipe is simple, easy-to-make, and couldn't be tastier! Enjoy!
Frozen Margarita (Serves 2)
What You Will Need:
– 3 oz. Tequila
– 1 oz. Triple Sec
– 1 oz. Grand Marnier
– 1 oz. Rose's Lime Juice
– Juice of one Lime
– Ice
– Salt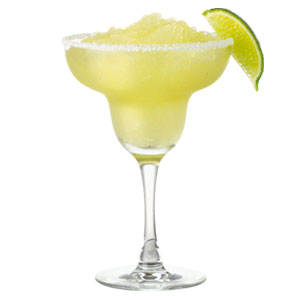 How to Make It:
Start by pulling out your blender and adding a hefty amount of ice. Obviously, if you like your margarita's thicker, you will add more ice; if you like them less thick, add less ice. I usually fill the blender about 1/2 way with ice and then add more if I need to.
– Once the blender is filled with ice, combine the remaining ingredients.
– Grab a wedge of lime and run it around the rim of your glass. Dip the glass into salt.
– Pour frozen margarita into your glass and add a wedge of lime as a garnish!
If you would like this recipe "on-the-rocks" all you have to do is combine the same ingredients into a chilled shaker (sans the ice) and serve over ice cubes in a salt-rimmed glass.