It's a Saturday at 8 AM. And you're wide awake. Welcome to College Gameday.
There's nothing like the excitement that college sporting events provide.
After all, what other events lead to bare-skinned, painted students to be out screaming for hours on frigid days and nights?
Not only are games fun ways to go out and show school pride, but to enjoy yourself with friends before, after, and during the game. Here are a couple of tips to maximize your Gameday experience.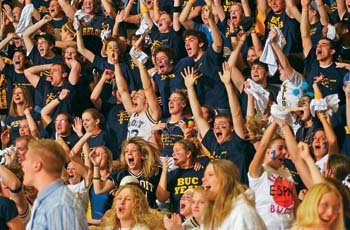 1.
Get Into It.
Attending games is much more fun if you can get into the frenzy.
There are all types of costumes available for purchase. Team colors and logos are a must. You can even create your own costumes and fan gear from things lying around (pom-poms for colored wigs, cutting logos from freebie bags and shirts from the beginning of the year, etc).
Be creative, and have fun with it.
2.
Tailgate.
tailgating is a fun way to socialize, relax, have fun, and get into the spirit hours before the first play.
There is usually plenty of food, drinks, and sometimes even games like corn-hole, flip-cup, or even just tossing the football around.
People are usually generous, and you will be received warmly at almost any tailgate you stop by if you are friendly and show some team pride. Get into the spirit and socialize with those around you; share food, drinks, and good times with students and adults alike.
3.
Go With Friends.
Rooting for your team is much more exciting with your friends yelling right there next to you. Coordinate your attire, spell things out, and who knows, you may end up on the big screen.
4.
In-Game Antics.
The feeling of joy when a chant you start picks up, and suddenly is thundering out of hundreds of thousands of mouths in the stadium is simply amazing.
Remember, the more animated you are, the more fun you have. Crowd surfing and other school-specific traditions are always a blast.
As an added bonus, you have a better shot at being displayed on television and having some freebies tossed your way. Some schools even have cash-prize awards for the best fans!
5.
Post-game.
Celebrating a victory with your buddies and going for pizza is a staple of Gameday.
However, after especially significant wins (playoffs, bowl games, rivalries), there can be an overwhelming amount of things to do ranging from hanging around the stadium for the madness, or going out to parties. Things can get very wild after a big win.
Gameday is a unique experience to college, and can lead to many incredible, fun days. No matter which sport you decide to check out, go out, and have a blast.