Your resume is the document that showcases your qualifications for the job. A polished resume is a great way to showcase how you could be the best candidate.
When making a resume, you must understand the industry and company you are applying for and tailor your resume to both.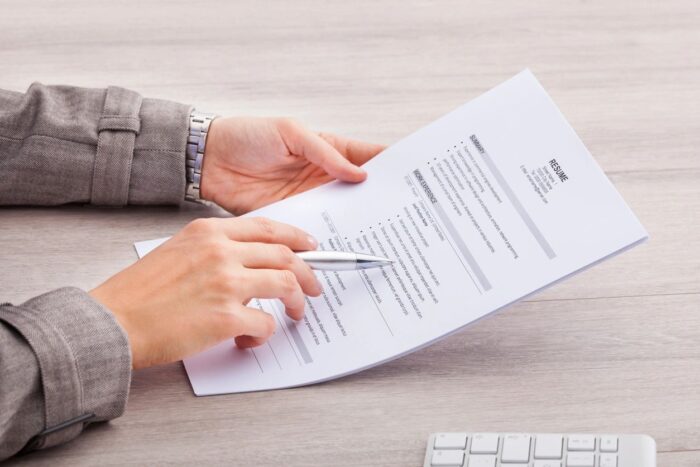 If you think you are the perfect candidate for the job, your resume is a great way to show others why at a glance.
Keep your resume brief and direct
The general rule is that your resume would be one page unless there is a good reason for it to be more expansive, like a long career in the field or a lot of work experience.
You can make it more concise by including only relevant experience; having everything at once is not always necessary.
Highlight your relevant skills
The recruitment manager is going to look over many resumes every day. While knowing many skills is undoubtedly positive, we recommend highlighting the skills that will be most relevant to your new potential employer.
If you don't have a work history directly related to the position you are applying for, be creative with how you present your experience. Think of how you have used those skills and how your application has benefited you and your coworkers.
Include your social media
A lot of hiring managers like to get to know more about you before they start the interview. It's a great idea to link your Linkedin profile, blog, or personal site to your resume.
It shows that you have a network and are up to date with recent happenings and lets them get a more in-depth look at your work history and portfolio and that you care about keeping up and learning more.
Make multiple resumes
Every job is different and requires another resume naturally. It can be a hassle to write up multiple resumes and update them numerous times when something in your career changes, but the benefits are invaluable.
Thankfully we can help with that; with the Upkey resume builder, you can easily manage and update your resumes; you can find a complete guide on the following link.
Proofread your resume
The number one mistake that will eliminate all the interest in your resume is spelling mistakes, there are many ways to proofread your resume using software, but it's always good practice to look it over personally.
Proofread your Resume by covering your finger over every word and slowly reading the entire resume.
Ask a friend, family member, or career coach to proofread your resume.
Use a service like Grammarly to proofread your text.
Time to get started
Now you know the best ways to make your resume stand out from the rest; for more helpful advice, check out our Blog and join our community today.