Everything You Need to Know About Dissertation Printing and Binding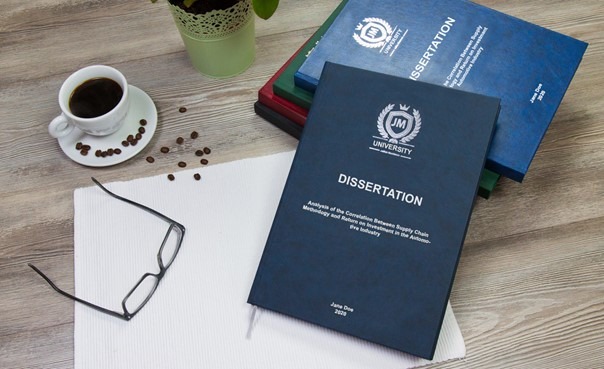 Are you looking for the ideal ways for dissertation printing and binding to cheer up the examiner? If so, read on to find out more about the things to consider.
After months of researching and writing your dissertation, it's now the time to submit it to the examiner. As a general rule, it's advisable to submit it in the highest possible quality. Some of the things you may ask yourself include:
How can I print and bind my dissertation?
Is there a top-rated place to print and bind my thesis?
In this page, you'll find the things you need to remember when it comes to printing and binding a thesis paper.
The First Step in Dissertation Printing and Binding
You may face a challenge if this is the first academic work you want to print and bind. Well, with the advancement of the internet and technology, most universities require their students to submit their research essays digitally. However, if you are in one of those colleges that demand students to submit a printed and bound document, this article is for you.
Top Things to Consider When Printing a Dissertation
Before embarking on the tricky process of printing a dissertation and binding it, it's essential to make a few considerations. Below are the things to consider:
Do you want black & white printing or color printing?
What type of paper do you want?
Where should I outsource the printing services?
Here are some of the most important things to consider when printing a Dissertation:
| | |
| --- | --- |
| Things to Consider When Printing a Dissertation | Tip |
| Color printing: Remember, color printing is costlier than black & white. | Although color printing portrays professionalism, too much of it isn't recommended. |
| Paper: most print stores uses the 80g/m2 paper. This paper is not only prone to tears, but its thinness may leak the ink. | Since you've used weeks or even months to finalize on your thesis, it's essential to print it on a quality paper. So, consider using a 100g/m2 paper to enhance the overall final grade. |
| Price: Generally, your essay's length, type of paper used plus the use of color printing determines the printing cost. | Compare the prices from printing stores. For instance, it would be wise to opt for a shop that uses the 100g/m2 paper by default. |
Dissertation Binding Issues to Consider
Now that we have discussed how dissertation printing is done, how does one pick the most fantastic type of binding? Well, this comes down to the type of dissertation. While a standard paper that takes a couple of weeks needs a specific binding, a research paper that takes you a couple of months demands a much better binding.
Another thing to consider is the work's significance. For instance, a thesis accounts for a large percentage of your coursework compared to a term paper. So, it would be helpful to give the latter weighty attention.
Keep in mind that you'll not require dissertation printing now and then. Thus, you have to look out for a binding store that makes your research paper stand out against the rest. For instance, a standard spiral binding is not ideal for a final dissertation. On the other hand, besides accentuating your work, classy leather binding is reliable.
At the end of the day, the type of research paper you are submitting comes in handy to determine the printing or binding method to utilize.
Tip! Universities and higher education institutions often have definite guidelines for the type of bond that is desired. Be sure to check with your institution first and find out what the guidelines are for dissertation printing and binding.
Popular Types of Binding
When it comes to thesis binding, you will be happy to realize there are several options to consider. In this section, we will review the commonly used to make it easy for you to make a well-informed decision.
Classy Leather Book Binding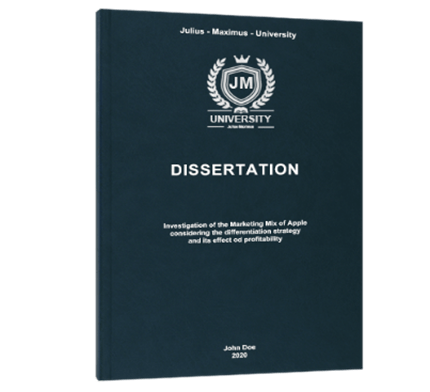 A classy leather book binding is ideal for essential and weighted research essays. A leather-look assures a professional and solid-looking essay. What's more? BachelorPrint offers a substantial list of personalization, like custom embossing, corner protectors and bookmarks. Ultimately, a leather-based binding turns out to give your dissertation a classy appearance.
Recommendations: Any sort of final paper is suitable for leather book binding:
Bachelor thesis
Master's thesis
Research paper
Dissertation
The Classic Thermal Binding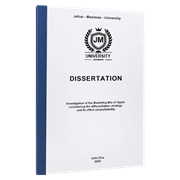 If you are searching for flexibility, thermal binding is the way to go. Since it comes with a transparent cover, your dissertation's title will be on display. Regarding the back cover, it has a leather look, and there're a variety of colors to pick from. The good thing about this option is that it's classic and dependable.
Recommendation: Thermal binding is great for scientific papers with a smaller page volume. It's also a cost-effective option if you need multiple printed copies of a paper.
The Ideal Designed Thesis Softcover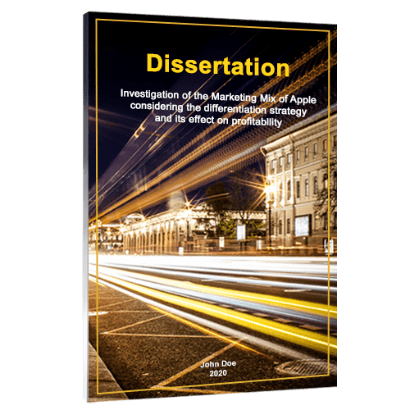 If you want your dissertation to be conspicuous, consider using a versatile softcover. A versatile cover lets you design it in the best way possible, thanks to the wide variation of fonts, logos and images. All in all, it is essential to avoid littering the cover. Keep in mind that the thesis is a professional piece of paper.
Recommendation: Softcover binding is suitable for any type of paper. However, it is important to note that only a small number of pages can be bound. Therefore, it should not be used for extensive thesis or a large research paper.  
The Spiral Binding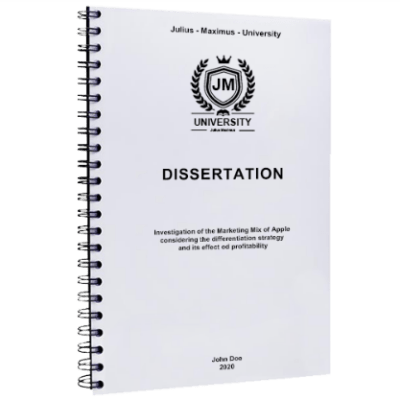 In addition to being a simple form of binding, spiral binding still maintains its class. It takes after thermal binding as it incorporates a transparent front cover plus a leather-looking back cover. In this option, the pages are not glued to one another. In its place, plastic or metal spirals are used to hold them together. Your taste determines the type of spiral and color of the back cover to use.
Recommendation: Spiral binding is a good choice for smaller papers, such as term papers. However, this type of binding is not recommended for papers that are very large, such as research papers or dissertations.
Types of Binding Methods
In this section, we are going to recap on the points described above to make it pretty easy for you to make a conversant decision.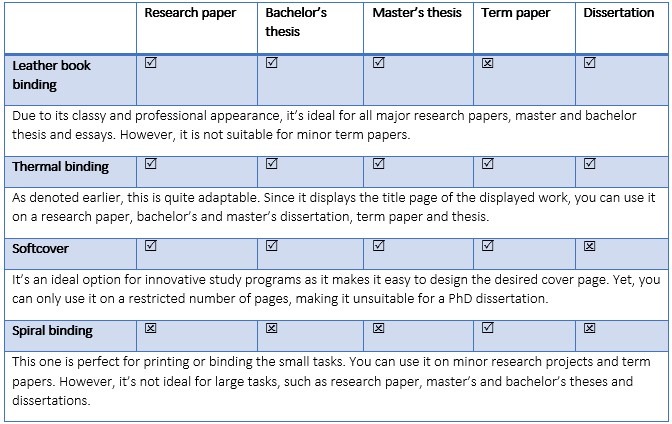 The Best Places to Find Printing and Binding Services
Now that you know how to print and bind your dissertation, the next big question you need to ask yourself is where to find a top-rated printing store. First, for your convenience and comfort, consider picking an online printing service. This way, you can order the service from the comfort of your home, and have it delivered to the doorstep.
However, since the internet is full of deceitful platforms, it is advisable to read the reviews of every service provider. Currently, there is one printing service that stands out against the rest – BachelorPrint.
---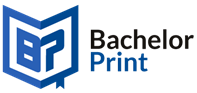 Well, BachelorPrint is a reputable company offering binding and printing services. Being a market leader, you rest assured to get high-quality bindings and top-rated offers. Moreover, the platform provides free shipping. So, your thesis gets back to you immediately after printing.
Here are some of the benefits offered
High-quality dissertation printing and binding at a reasonable price
3D preview on their website where you can view the inside and outside of your thesis
Free express shipping with all orders
How to Guarantee a Seamless Binding and Printing Experience
Submitting an unmatched thesis demands plenty of time and effort. All in all, following the tips mentioned above, simplifies the entire process. Indeed, you are the one to determine how and where your dissertation will be printed, whether in local or online printing service.
Lastly, BachelorPrint is the service to opt for if you want a seamless printing or binding service. If you want to simplify the process of printing and binding your thesis, BachelorPrint is the right choice. The user-friendly online store lets you assemble your thesis and see exactly how it will look before it's printed via a 3D preview. These are just a few of the reasons to opt for this service is its ease of use.
We hope this review helped you a lot as you finalize on your dissertation.