In the United States alone, there are over 4,000 colleges that welcome nearly 20 million students a year. While this is an exciting time, it can also be tough. If you are leaving home for the first time, you may be hundreds of miles away from your friends.
Although you may feel distanced from those you know and love, there are many ways to stay connected — especially in today's digital world. From online games to virtual dinners, the options are endless. The key is to stay connected. Here's how.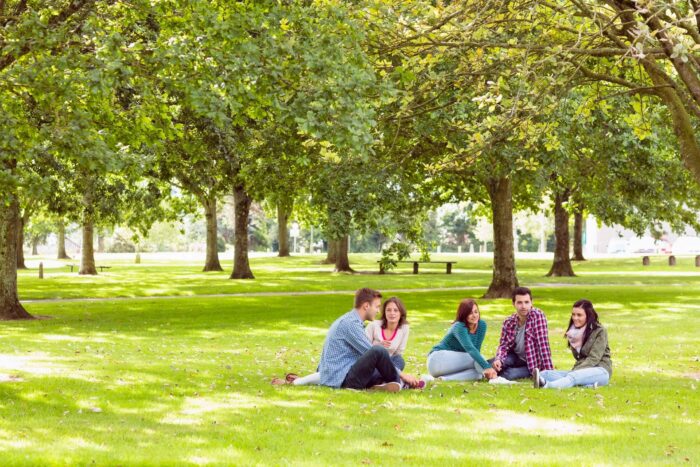 1. Leverage Social Media
Social media changed the way we interact and live our lives. Since the early 2000s, social media has steadily risen in popularity, continuing to attract millions of users each year. In fact, approximately 45 percent of the population uses social, with Facebook being the leader. Whether you are active on Snapchat, Instagram, or TikTok, use these platforms to let your hometown friends know how much you miss them.
Tip: Whenever you see something that reminds you of a hometown friend, send that post their way. This is a great way to say, "I'm thinking about you" — they'll appreciate it.
2. Have a Weekly Movie Night
As of 2020, there were around 204 million Netflix subscribers. This streaming service offers you and your friends an opportunity to bond over the latest Netflix releases. Whether you get together every Wednesday to watch a new movie or "meet up" once a week to watch the latest episode in a series you love, your virtual time together will help you stay in the know. Pause the movie to grab snacks, catch up on the latest gossip, or reminisce.
Tip: Although you can certainly watch a movie and chat via Netflix Party, why not take things to the next level? Skype or FaceTime throughout the movie to enjoy a more personalized experience.
3. Play Games Online
Playing games online is the perfect way to stay connected, unwind, and have fun. There are plenty of options out there, allowing you to mix things up. You can play virtual games or set up your laptop to play a board game. Get creative! That's the whole fun of it. Play to catch up or make bets, coming up with fun prizes.
Tip: If you're someone who loves word games, such as Words with Friends and Scrabble, you need to try a word unscrambler! This tool is helpful when you come across unexpected or tricky sets of tiles.
4. Don't Take It Personally
At first, it can be tough adjusting to life without your hometown friends. You may have gone from hanging out every day to being a plane ride apart. Reach out as often as you can and keep an open mind. When distance is a factor, change is inevitable. Your friends may be busy with work, school, and their own personal life — and that's okay. All you can do is make an effort to show you care. If your friends aren't as reciprocal, don't beat yourself up. Allow your friends to grow and find yourself! That way, when you come back together, you'll have so much to share.
Tip: It's important to remember that who you are in high school does not dictate who you'll be. You may find a new interest or hobby in college that your hometown friends have no interest in. Explore those interests and make new friends who you relate to.
5. Plan for the Future
Have you and your friends always wanted to travel to Italy? Have you always wanted to play in a band? Whatever you used to dream about, keep that dream alive by planning ahead. Just like you meet up for a game or movie night, schedule a virtual meeting to talk about your goals. These goals can either focus on what each of you wants to achieve as individuals so that you can help each other, or you can plan for a future goal that will be achieved together. Either way, this is a rewarding exercise that will help motivate you, bring positivity into your life, and help keep your friendship strong.
Tip: Although you'll be chatting from different cities, discuss how each of you is working toward your dream(s). If you've always wanted to travel somewhere together, take steps to excite each other. For example, start to learn the language spoken in the country you want to visit. In addition to talking about your milestones, send each other little gifts in the mail. These little gifts can be related to your common goals or you can send parcels that help your friend achieve their individual goals.
Friendship can be tough, but for those who are worth keeping in your life, the effort you make will be an investment. College doesn't need to break you and your friend group up. Instead, use the distance between you to make your bond stronger. Inspire one another and push each other to be the best you can be. As Tim McGraw said, "We all take different paths in life, but no matter where we go, we take a little of each other everywhere." Hang onto the things that make you smile!