A wedding is a special occasion that marks new chapters in the lives of the newlyweds as well as their friends and loved ones. With proper planning, weddings create unique stories and memories that resonate with the couple. Therefore, every aspect of the occasion should be planned and timed to perfection. The theme, colors, decorations, entertainment, and even dresses should speak of the couples' dreams and aspirations. A perfectly-planned wedding should mirror the personality of the bride and groom.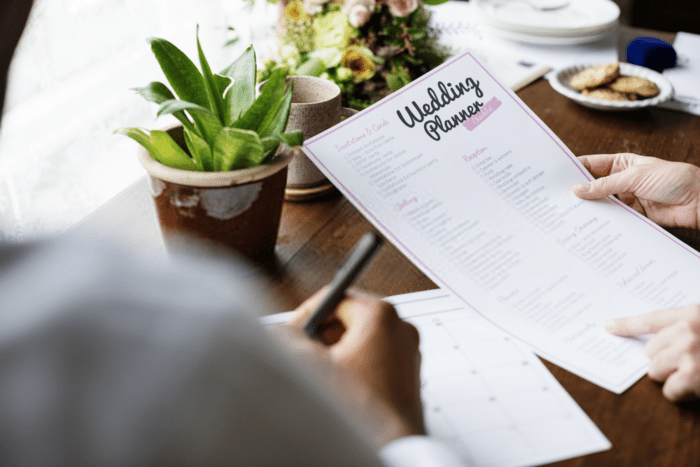 Ideas to Make Your Wedding Successful
Planning a perfect wedding is a mind-bending task. The sheer number of subplots and minute details that should fall in place can be overwhelming. The following are some of the best ideas to make your wedding successful and unforgettable:
Always work with a list
While you may want your guests to have a blast and your wedding to be memorable, you can't memorize every detail required for the wedding. No matter the number of items you will need for the wedding, always work with a list. A list will act as your point of reference throughout the whole wedding planning process.
When planning a wedding, you'll deal with dozens of suppliers with different payment and delivery dates. If you have to, make a spreadsheet and keep track of every date. Without a list, you might end up with late payments and fail to keep track of suppliers and items to deliver before the big day.   
Give the little details a personal touch
On your big day, ensure that every detail speaks to your personality and taste. From the flower arrangement to the venue, ensure that the wedding is themed as per your personality or even love story. A personalized wedding ceremony program can be the difference between guests feeling uneasy or engaged when you are running a little late. Provide interesting details about your lives, including the journey to the big day.
Keep your guests entertained, thrilled, and glued to the proceedings by adding a personal touch to every aspect of the wedding. Remember, the key to having a successful wedding is to be intentional with every detail. Let the cake, the dresses, the seating arrangement, the entertainment, and vows be about you.  
Hire a professional wedding planner
Pulling off a successful wedding while doing everything yourself is next to impossible. You'll need a pair of professional hands and eyes who can spot any mistake and correct it immediately. A professional wedding planner will help you decide on the best seating arrangement, flowers, theme, meals, and even music for your big day. Wedding planners will also liaise with the ground crew and suppliers before and on the wedding day. In most cases, a planner will also help with the budgeting and even the selection of wedding venues.   
Hire a professional wedding photographer
While planning a wedding, always remember that photos store memories for decades. And there are no memories worth storing than a wedding day. A professional photographer will know when and how to capture those critical moments. Whether it is entering the venue, exchanging the vows, couple dance, or any random memorable incident, a photographer will ensure that you have something to help you walk down the memory lane during your silver or golden anniversary.
The wedding photographer will act as your third eye on the wedding day. For just a few more pounds, the photographer will include photo frames, video recording, and a photo album,  
Select your bridesmaid and groomsmen wisely
On your special day, ensure that you are surrounded by your close friends and family. And no person will be closer to you that day than the bridesmaids and groomsmen. In your wedding videos and photographs, your bridesmaids and groomsmen will be the closest to you. They are your support system throughout the wedding process.
A wedding is an intimate affair that demands that you be surrounded by your close friends and relatives. Ensure that the groomsmen and bridesmaids are close friends and relatives. No one wants a wedding photo made up of strangers. 
Choose the band and playlist
Weddings are joyous occasions that bring friends and families together to celebrate love and the beginning of a new chapter. And music is an important part of any celebration. If you are planning on hiring a band to play at your wedding, always go for your favorite band if you can afford it.  For the couple dance, have the band or DJ play your favorite songs. Extend the joy to the guests by directing the DJ to take song requests. This will ensure that your guests get on their feet, groovin the jams of their choice.
Make the final decision on the guest list
As one of the most intimate ceremonies of your life, ensure that your wedding is attended by individuals who are close to you. Having the final say on the guestlist gives you the freedom to create a personalized invitation. Whether you're doing a garden or church wedding, liaise with the planner to ensure that you have full control over individuals allowed to access the venue. A wedding attended by guests whose faces are familiar is memorable, and a great way to start your new life.
Be creative and disruptive
When planning your wedding, avoid the temptation of going for tried and tested yet mundane ideas. Such ideas don't leave a positive lasting memory. Work with your wedding designer or planner, and settle for simple and unique designs that would leave your guests raving about the wedding for months. Go for disruptive ideas such as flash mobs, unique dance routines, a Caribbean jungle theme, and include a personalized invitation card with a scratch-off area to reveal the wedding date. For the reception, you can add a splurge bar and signature cocktails and desserts. Create a hashtag for your wedding. If the budget allows, you can also create a simple app specifically for your wedding.
Select a memorable venue
Whether you opt for an outdoor or indoor venue for your wedding, ensure that it leaves a lasting impression on you and your guests. Keep in mind that the background of the venue will create a backdrop for all your wedding videos and photos. It is advisable to settle for a singular venue for your wedding to avoid the inconvenience of moving the guests to the entertainment and reception venue. It is also cheaper to conduct everything in one venue. Additionally, ensure that you give clear directions to all guests.  
Have a paper trail
Record every agreement and transaction related to the wedding planning and keep them somewhere safe. You never know when a supplier may bail on you. Those emails you send to the designer, planner, or supplier can help you keep track of everything, and they also act as a point of reference in case of any conflict. In case of any changes to plan, ensure that you communicate with the affected supplier or designer in writing. The last thing you need on your wedding day is a missing centerpiece decoration because you assumed the supplier wouldn't let you down.  
Add snacks to the menu
The wedding night can be a long one. Sometimes by the time you take the floor for the couple dance, most of the guests will be hungry because the main course was served several hours ago. Including a late-night snack into the menu will show that you care about the guests. Revive the guests with a cup of coffee served with muffins or donuts. You can also opt for some cheese rolls. 
Be creative with the seating plan
The seating arrangement at your wedding should be reflective of the program. A lounge area blocking the view of the guests can easily ruin the wedding experience. Therefore, liaise with your planner and come up with a seating plan that maximizes the space, allows for easy movement at the venue, and ensures that everything blends in perfectly. On the tables, you can add name tags for the guests, gifts, and Thank You notes. You can also use a seating chart for ease of planning.
Creative lighting
Most wedding receptions take place in the evening. The setting of the sun allows you to illuminate the venue with a unique lighting arrangement. Create a picturesque warm atmosphere at the reception area with beautifully arranged lighting that accentuates the glow on your beautiful faces as you celebrate your special day. You can put up giant LED light murals of yourselves or your initials at the entrance to the venue.  
Always ask questions
One of the worst mistakes that you make when planning your wedding is failing to ask questions whenever things seem unclear. If you are working with a wedding planner or designer, always engage them. Make a point of understanding all aspects of the planning process to avoid ending up with someone's idea of a memorable wedding. 
Enjoy Your Big Day!
Weddings are special and intimate occasions that should be shared with friends and loved ones. To make your wedding successful and memorable, be proactive in the planning process, even if you have a professional wedding planner or designer in your corner. Actively engaging people around will ensure that you successfully plan for an affordable beach wedding.