It is always worth making the most out of any career path you choose for yourself, for the good of your own personal development and achievement. Nevertheless, when it comes to a medical career in particular, active efforts to make the most out of your position can also improve your patients' treatment and lives.
Any efforts you make to further your development, understanding, and skillset will be directly applied to your job role within the medical field, so it's always an advantage to know how you can get the best of your healthcare position no matter the specific role.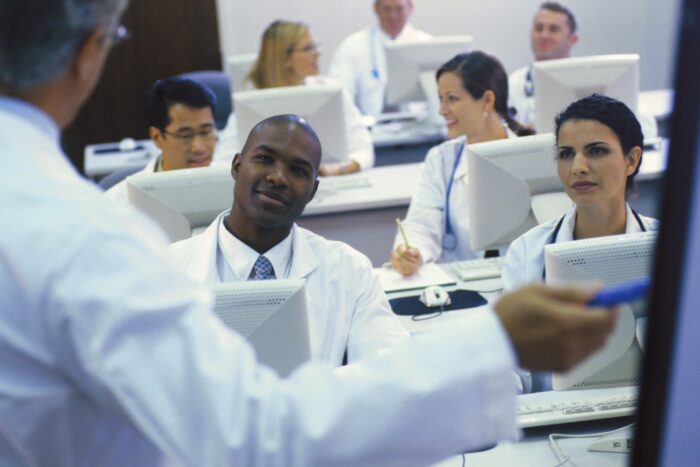 Why Choose a Career in the Medical Field?
Jobs within the medical sector will always be worthwhile if it is right for you. Healthcare jobs are extremely rewarding in many ways and perfectly suited for those who relish hard work and career development.
In choosing a medical field career, you are choosing to help people and improve their lives every day. You can apply your own knowledge and expertise to medical situations and always find the best solutions for patients.
Jobs within the medical field can be very dependable, as they offer long-term progression and the opportunity for many branches of different specializations and fields.
Not only that, but the right progression and job roles can see you earning a lot of money, meaning medical careers can offer a lot of financial stability, too.
Top Signs You'd Be Suited to a Medical Career
Many indicators might mean becoming a medical professional is right for you. Here are just a few of them.
You have a passion for people, and helping people
You're extremely organized
You have medical qualifications and training
You love the subject of science, healthcare, or anything related
You enjoy hard work
You work well under stress
You want a job which will offer future progression
You easily become bored in jobs which offer the same set of working tasks and pattern
You communicate well
You are extremely motivated
How To Get the Best Out of Your Medical Career
If you're just starting out on your medical career journey at the point where you're trying to decide which job role is right for you — or, indeed, whether the medical profession is best suited to you — it's a good idea to get a taste of what certain job roles and medical environments will be like. After all, you will never know how you truly feel regarding a career choice until you are in that specific environment.
It is a good idea to enhance your learning and experience and seek out voluntary positions in medical environments. This will enable you to see the day-to-day life of those in that particular environment, or just to become more accustomed to a certain routine. This could be volunteering in a clinic, in a hospital, or a dentist's office — wherever your interests lie.
Even if your voluntary position is not directly related to the medical field, being in a healthcare environment can offer valuable insight. Even if you are working a voluntary admin role on a busy reception desk, you are still within a healthcare setting in which you will be able to hear and see how the process works.
The fact that you have also undergone voluntary work to further your own skills will look impressive on job applications and resumes in the future, too.
Learn About Your Field's History
While making the most out of a career often sees you looking to the future and setting clear objectives, that does not mean that you cannot also learn from the past. Within the medical field and healthcare, it is very important to understand how your chosen role developed to be what it is today. Understanding what has happened in the past regarding a medical position can help broaden your understanding and appreciation of a chosen role and a better understanding of how certain procedures or outlooks came to be. See here for more information.
If you are already qualified for a medical position that you have already started with, that does not mean that there is no room for any further education.
The flexibility of education these days means it is always possible to learn new skills and extra qualifications. If there is a particular topic or qualification you believe will enhance your current position — even if it is not an obligatory qualification — then you can always look into learning more about it.
Additionally, it may be that you're looking to branch out and learn more about alternative healthcare positions in order to make a career change within your current medical setting. This means you may want to look at new, key qualifications that are applicable to any new job role you are considering.
Perhaps it is even an extra job role you are hoping to take on for extra hours if you can spare them, so you are looking to achieve the qualifications to match.
That being said, always make sure that you comfortably have time to learn something new, especially if you will be undertaking new qualifications around your full-time work. You don't want to risk overexerting yourself or becoming burned out, and you don't want your extra studies to affect your mainstream medical job, such as meaning you're more tired on the job.
Enhancing your education should be an enjoyable experience done on your own terms, so if it becomes too much or you think it will be too much extra pressure, then take a step back to consider first properly.
This could be someone with whom you directly interact at your place of work, or it could be someone you find in your personal time. Mentors can be extremely helpful in learning and developing, and especially those who have worked within their own medical field for a significant period.
Mentors who have on-the-job experience can provide valuable information which you perhaps cannot learn from textbooks and mainstream education, simply because mentors may have specific advice they've learned directly from doing the job, or perhaps lessons they've learned from their own mistakes which helped them to become a better healthcare professional.
If there is someone you trust in a higher position than you in your place of work, see if you can speak to them regarding any specific advice they have to offer, or they may look to take you under their wing while you undergo on the job training. It may be as simple as observing someone you trust at work to understand better how they deal with workplace situations and how they apply their work.
Outside of the workplace, you may know someone personally who has a medical qualification or who works in a similar field as you, in which case you could speak to them in more detail about progression and any advice they can offer.
You could also look for sources, contacts, or undergo networking online with those skilled in the medical field and connect with people through social media or online chat to see if any advice can be offered. When doing so, always ensure that you conduct safe online practices and make sure any information gathered is from a reliable source.
It can be a common theme within the healthcare setting that you might not depend on structured hours, due to the demand of the industry and patients' healthcare being at the fore. To make the most of your position, it is important always to be open to working extra hours or offering to work overtime when possible. When offering to work extra hours, perhaps in a different environment or to cover someone else, you may be able to learn new skills or be exposed to a new way of doing things that you never usually encounter when working your usual hours.
It also shows a good work ethic for future development if those within your workplace can see that you were always willing to put in the extra work when required.
Be sure only ever to work hours, you can comfortably work, however, for the good of your own health and wellbeing.
Understand Exactly What Steps to Take to Progress
Lastly, if making the most out of your medical career means progression and future promotion, then it's a good idea to understand as soon as possible what it's going to take so that you can implement the right steps from the get-go.
This can also help you stay focused and not waste time on steps or practices that are not directly related to what you need to do to progress.
Understanding key steps will help you to pinpoint those skills or experience areas you may be lacking in so that you can work to rectify that in your own way. That way, when it comes to future development and promotional opportunities, you will take the next step knowing that you have everything needed.