Rest easy with one of BenQ's latest innovations, the ScreenBar e-Reading Lamp. The warm light will help you get into the workflow and give your eyes a much needed break from your computer screen. In this era we can expect a life filled with screen time. It is important for our generation to start taking proactive measures to prevent any eye problems from computer screens and BenQ's new lamp does just that.
Like BenQ's other technology products, the ScreenBar e-Reading Lamp provides an innovative solution to improving life.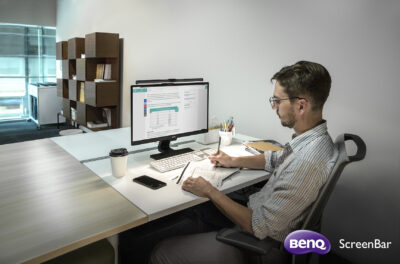 With auto dimming the light adjusts the brightness level throughout the day for a eye-healthy workspace. Relaxed and healthy eyes are the root of your productivity. BenQ's ScreenBar e-Reading Lamp provides you with an advantage of healthy, non-strained eyes. Now it will be easier to endure those maraton-like days in the office, or binge-worthy programs without complaining about your eyes. That edge of productivity can make the difference between getting an A or B.
Allow us to present, your new workstation secret weapon,
 

The BenQ ScreenBar e-Reading Lamp

.
How the BenQ ScreenBar e-Reading Lamp works:
When we look directly into the monitors, our eyes are always affected by the distracting reflection. The lamp acts as a barrier of light to prevent that annoying glare. Plus, the adjustable color temperature is designed to increase focus and comfort. The warm light lets you relax and replenish your energy. The cool light allows you to concentrate and boosts work efficiency. The design of the light bar is super convenient as it simply clips onto any size computer monitor and runs on a USB connection.
Key Product Features: 
Ultralight, Intuitive Gentle, Minimal Size, Specialized Case
USB Powered Lamp
Glare Free
MyLite personalized mode
Adjustable Color Temperature
BenQ ScreenBar Lite e-Reading LED Lamp is available in Black and can be purchased on Amazon. Learn more and explore BenQ's innovations by heading to their website.