College ain't cheap, and for many students, that means working alongside their studies. Of course, there is another alternative to slogging away in a minimum wage job for 8 hours a day, only to come home to a hard night of hitting the books, and it's to start up your own business while in college. Something that you can get some valuable advice on in the post below.
Do consider your skill set
First of all, if you want to start a successful dorm room business, you really need to think about the skills you already have. After all, most of your other time will be taken up with studying, so you don't want to make things too hard on yourself. Also, you are much more likely to make a go of a business in which you are using skills that have already been established.
An excellent example of this is for an English student to start up a tutoring business focusing on writing style, and literature support for other students at their college, or in the local high schools. Alternatively, a business major may look at setting up an online store, something that they should already understand the theory of. A journalism or marketing major, however, may be best suited to start up a blog, and an IT major may base their business around coding websites for customers they source online.
It's not that you can't actually do really well in something that you don't have experience in, it's just it makes more sense this way. It also provides you with the opportunity to hone your skills, and put what you already know into practice. Something that is valuable skill future employers will be looking for, so helping to boost your career as well.

Don't reinvent wheels
Next, when looking to set up a successful dorm room business, don't think that you have to reinvent the wheel. Yes, you've heard stories about Zuckerberg starting up Facebook from his dorm, but you don't actually have to break the mold to bring in enough money for tuition. In fact, there are a great deal of tried and tested business ideas out that you can follow instead.
Your focus should be on finding the right audience for whatever product or service you are offering. After all, you may easily be able to make money running a business that deals with other students' laundry, but there are unlikely to be many of your classmates that need a luxury catering service. Although, this will always depend on where you are located!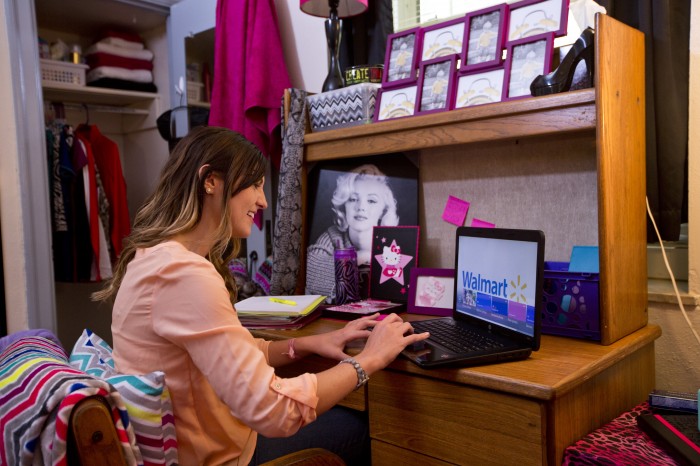 If you live in a small dorm room, it's unlikely you will have room for lots of stock for your business.
Do think about practicalities
Practicalities are also a crucial element to the success of your dorm room business. In particular, you need to consider how you will manage your company when you are home for vacations, something that is a regular part of college life.
Luckily, if you choose something that is term time only, you can avoid this problem, or if you run an online business, your physical location will matter less to your customers. Also, it can be helpful to use a service like the one's Physical Address offer that will give you a virtual address and mailbox. Then even if you do have to travel halfway across the country to get home, you know your mail will still be safe and opened quickly, and the information in it needed to run your business, will be easily accessible to you.
Also, when it comes to running a dorm room business, especially a retail one remember that if you are actually living in dorms, it's unlikely that you will have the room to store a lot of stock. What this means is that for your business to be successful, you will need to consider selling digital downloads, drop shipping, or shipping directly from the supplier instead. Otherwise, it may become unmanageable.
Don't let it take over your life
Lastly, when setting up your dorm room business, be sure to factor in a work-life balance. After all, running a company is hard work, and when you add your studies on top, it can leave little time for rest, recuperation, and fun.
The thing is that these activities are also a valuable part of the college experience, and without them, you are unlikely to do your best in either your studies or when running your business.
To that end, it's crucial that you don't bite off more than you can chew, and create a realistic schedule for your school work, running your company, and for fun. Otherwise, you may just miss out of the essential college experience you are working so hard to pay for!