Five Genius Care Packages To Send Your Friend 'Just Because'
Have you ever just been thinking of a friend randomly and want to make them smile? Care packages are a great way to let them know that they are loved! This list has a couple of unique package ideas that you can send to a friend and it will instantly put a smile on their face.
Your friend will always love a movie night care package!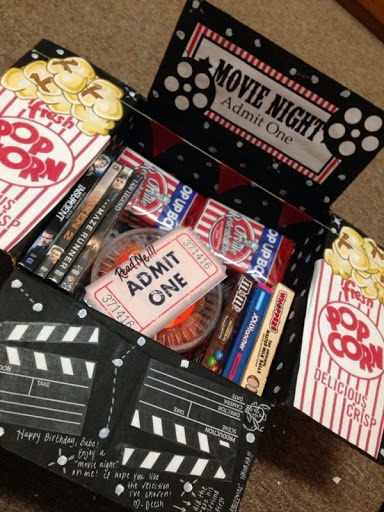 Photo courtesy of lastingthedistance.com.
Movie Night or TV Marathon
This care package is truly something you can send to pretty much anyone, at any time of year, and it will always be a hit. The crucial piece to this care package is what you are giving your friend to watch. So pick something you know they will love. Some ideas for movie bundles are 80's romance, classic horror, or any famous series. For 80's romance include Pretty in Pink, Say Anything, Can't Buy Me Love and similar movies. A classic horror bundle can include movies like The Shining, Children of the Corn, Halloween and The Blair Witch Project. For any famous series include all the movies in the series. Consider the Twilight Saga, the Harry Potter Movies, or the Fast & Furious series. If your friend is more of a TV person include their favorite series. Some of my favorites are Friends, The Office, The Vampire Diaries, and Game of Thrones.
After you figure out what movies/TV shows you want to send, it is time to add snacks! Popcorn is a must. Include microwavable, premade, or stovetop. Throw in some boxed candy and you have a true movie night. Stay away from including soda if you are sending this in the mail as it will likely explode and ruin the rest of the package. Other things to consider including is a bowl for the popcorn or a fuzzy throw blanket to cuddle up with.
This adorable care package is the perfect gift for a friend in college. Photo courtesy of etsy.com.
"Just Add Water"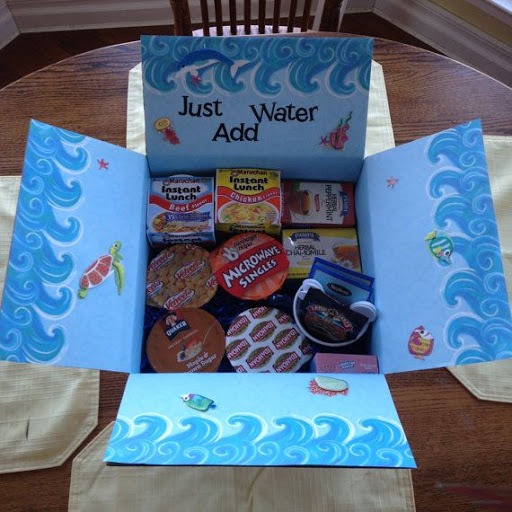 This package idea is perfect for college students, or anyone else living on a budget or who does not like to cook. This clever idea is a box full of foods and treats that you just have to add water to make. When looking for items to include in this box, you will be surprised at the variety that is out there. Add things like mac n cheese, ramen noodles, and cups of soup for savory meal items. For sweets, think mug cakes and even cookies (Make sure the person your sending to has an oven). Beverages are also an easy add-in with tea, instant coffee, hot cocoa, and lemonade and Kool Aid mixes. Expand this idea by including toiletries like toothpaste, shampoo and conditioner, and even laundry pods. If you want to add something just for fun throw in some water balloons to really throw your friend off.
To decorate this package, draw on some wakes or water droplets that go with the theme. Make sure to write the words 'Just Add Water' somewhere so the recipient is not confused.
This simple and easy care package will get to your friend in no time. Photo courtesy of carepackages.com.
Premade Snack Basket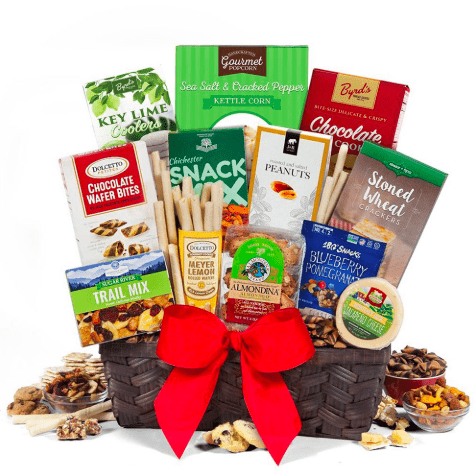 This is the simplest way to show a friend that you have been thinking of them. Selecting a premade basket takes care of a lot. Not only is everything included already, it is packaged in a gorgeous rustic basket and artfully arranged. You can add personalized messages and you get to skip going to the post office. You can ship the package directly to your friend's front door! This premium snack basket includes cracked pepper kettle corn, lemon wafer rolls, monterey jack jalapeno cheese, stoned wheat crackers, chocolate wafer bites, key lime cookies, roasted peanuts, chocolate chip cookies, blueberry pomegranate clusters, chichester snack mix, almond biscuits, and strawberry banana sugar river trail mix. It really has everything!
This adorable care package idea is sure to give your friend a beaming smile. Photo courtesy of greateightfriends.com.
A Box of Sunshine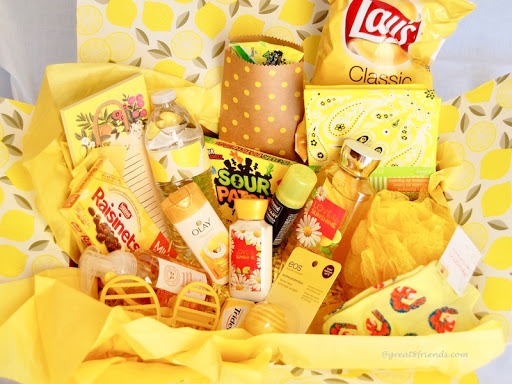 This is one of the cutest ideas on this list. The 'box of sunshine' is just something to make the recipient smile. When they open the box, it is supposed to resemble a beam of light like the sun. The idea is to include a bunch of things that are the color yellow. It is a fun spin on a simple color theme. It is also the perfect care package idea if you know you want to send something, but don't know exactly what. Candles, soaps, lays potato chips, nail polish, highlighter, Subway gift cards, MnM's, and chapstick are just the beginning of things that you can add. The easiest way to choose items for this package is to head to your local store like Target or Walmart and wander around grabbing things that pop out with the color yellow. As soon as you enter, you are sure to start having ideas.
The packaging is important for this one. The inside of your box should be bright yellow. You can paint it, use paper, find an already yellow box, or even just fill it with yellow crinkle paper. Make sure that you write some variation of 'A box full of sunshine' somewhere inside the package so your friend isn't confused.
This thoughtful care package is perfect for any coffee loving friends. Photo courtesy of bysophialee.com.
"I Love You A Latte" Box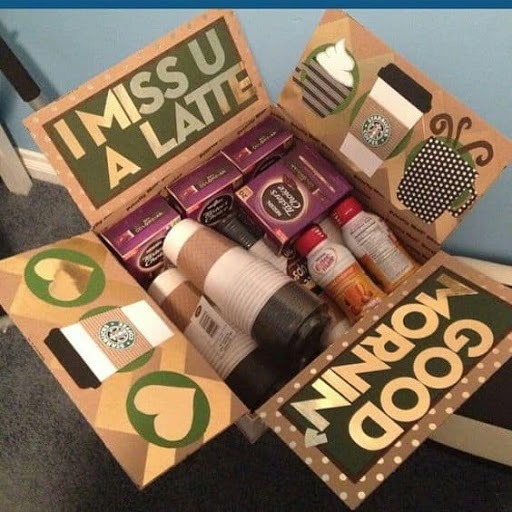 This box, like most great care package ideas, is based on a pun. 'I love you a latte' can easily be exchanged for 'I miss you a latte' if your friend lives far away and you don't get to see them often. To complete this package idea, include all things coffee. There are so many great options. Add K-cups, instant coffee, special grounds, or a combination of all three! Make sure not to forget cream and sugar. Add in a few flavors of each. They even sell special cappuccino mixes. Don't stop there! Think about including to-co coffee cups and cute mugs. If you choose to send a mug, make sure you wrap it in bubble wrap or recycled newspaper to prevent breakage. You can even include special things like a book detailing how to make latte art. To top the box off, send your coffee loving friend a gift card to their favorite coffee shop so they can treat themselves.