An FNP (family nurse practitioner) is a registered nurse who has undergone specialized graduate education to deliver primary health care services to patients of all ages. There are a variety of duties that a family nurse practitioner is required to perform, such as ordering diagnostic tests and procedures, performing physical exams, diagnosing and treating illnesses, as well as prescribing needed medications. FNPs also need to teach their patients the importance of living a healthy lifestyle, helping to protect their health and prevent illness and disease.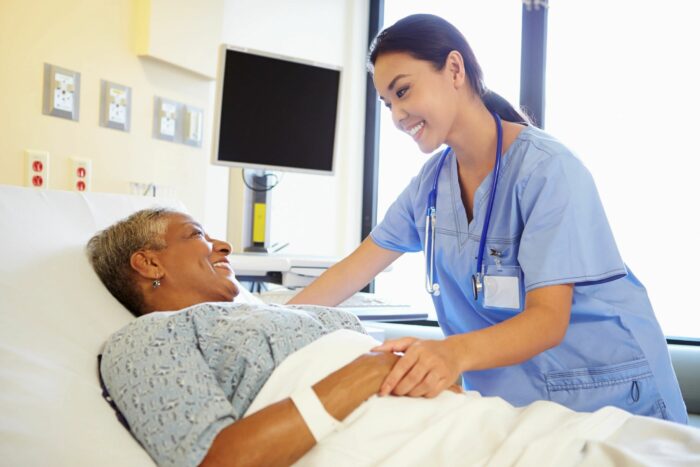 If you are interested in becoming a family nurse practitioner, here is a guide on what you need to know.
What is a Family Nurse Practitioner?
FNPs serve a crucial role within the healthcare system to provide care and support for patients of all ages, backgrounds, and in many cases, the undeserved. Family nurse practitioners provide services and resources for families and individuals throughout their lifespan. The role can be highly rewarding and beneficial for those who like to develop long-term relationships, as well as getting to know their patients over time. There are tons of benefits and rewards that FNPs can reap throughout their career, whether it's in professional, personal, or financial terms.
Salary Range
Advanced practice nurses are able to command higher salaries when compared to registered nurses. In 2016, the BLS (Bureau of Labor Statistics) reported that the median annual income for NPs (nurse practitioners) was $100,910, with the lower 10% of family nurse practitioners earning $72,420 or below, and the upper 10% of FNPs earning $140,930 or higher.
Like with any employment situation, family nurse practitioners need to take several factors into account before looking and deciding on a job offer. Factors include:
Local cost of living
Total benefits package
Job security and stability
Family nurse practitioners who would like to set up their own private practice will need to evaluate the local market, as well as receive professional advice from legal professionals and accountants to form a solid business plan. Savvy family nurse practitioners with a detailed business plan in place can develop a private practice that's financially viable and lucrative. The BLS also reported the highest paying states in the United for States for nurse practitioners, which were:
California ($124,330)
Alaska ($121,250)
Massachusetts ($117,86)
Career Outlook
It's predicted that nursing employment will grow at a steady rate of 16% through 2024. When compared with other sectors, this is far faster than the average. Once baby boomer nurses near the retirement stage, there will be a surging demand for new family nurse practitioners to enter into the profession. With an ever-growing need for more advanced practice nurses, becoming an FNP can provide you with job security and financial stability.
Becoming a Family Nurse Practitioner
If you are set on finding a family nurse practitioner position, your first port of call will be to undertake an entry-level nursing program. The stages of becoming an FNP are as follows:
Graduate from a university program that has been accredited by the AACN (American Association of Colleges of Nursing) or the NLN (National League for Nursing)
Take the RN licensing exam once you have graduated, otherwise known as the NCLEX (National Council Licensure Examination).
Once you have passed your exam, you will be able to start applying for nursing positions.
Most nurses tend to work for a couple of years in an RN position, before embarking on a career in advanced practice nursing.
Once you have decided that a family nurse practitioner role is right for you, you will need to obtain a master's degree in nursing at an accredited university or college. There is also the option to study for a post master's certificate nurse practitioner online.
Duties and Environments of an FNP
If you are after a career that's patient-facing, multifaceted, and structured, an FNP role may be perfect for you. Although each day will be different as a family nurse practitioner, there are key roles and responsibilities that are expected of you, which include:
Designing and carrying out treatment plans for chronic and acute illnesses
Prescribing medications and other therapies
Conducting routine physicals
Assessing for and diagnosing health conditions
Assisting in minor surgeries
Making referrals as and where appropriate
Working independently with others on the healthcare team
Providing primary health care
Ordering and interpreting lab and other diagnostic tests
Once you have qualified as a family nurse practitioner, there are a range of settings that you can work in too, such as:
Clinics
Home health care
School clinics
Community health centers
Hospice centers
Private offices/private practice
Nurse-managed health centers
Continuing Education Requirements
Even after you have qualified as a registered family nurse practitioner, there are continuing education requirements that you will be expected to undergo throughout your career. It's important that you renew your nursing license and certification, so checking with your credentialing agency and state board will give you more information on how to keep your RN license and certification up to date.
Key Qualities
To succeed as a family nurse practitioner, there are a wide range of skills that you will need to learn, develop, and use throughout your career. As you will be engaging with people of all ages, backgrounds, and races, having the right skillset behind you is crucial. One of the most important traits to possess is communication skills. When dealing with patients, you will need to know how to communicate effectively when delivering your knowledge and expertise, meaning that they will fully understand what you are telling them.
Secondly, you must possess empathy skills as a family nurse practitioner. As each situation will be different, putting yourself in the patient's shoes and seeing the situation from their point of view can help you be more empathetic to their needs. Great family nurse practitioners have great empathy for the suffering and pain of their patients. No matter who you are treating, providing comfort and compassion should be your number one priority.
There are various other key skills that you must use throughout your career as a family nurse practitioner, which include:
Listening skills
Flexibility
Attention to detail
Interpersonal skills
Problem solving skills
Quick response
Respect
Leadership Opportunities
Family nurse practitioners have increased leadership opportunities in a range of fields, such as patient education, academia, research, as well as policy advocacy. FNPs can further advance their field by carrying out medical research and developing education programs. What's more, due to the amount of clinical training and education in healthcare policies, family nurse practitioners may be better suited than registered nurses to liaise with policy makers to improve the overall care of patients and the nursing profession. If you like the idea of making a positive impact to the patients you treat and the facility you work in, becoming a family nurse practitioner may be the perfect occupation for you.
Study Online Vs Face to Face Classroom
If a family nurse practitioner role is your calling, but you're unable to commit yourself to a full-time degree, there is the option to study online instead. Rather than having to make set lectures and seminars, choosing an online degree will mean you can study at your own pace and create a schedule that works best for you.
There are many nurses who are already in full time positions, making it harder than ever to find the time to get stuck into education. Thankfully, online learning can give you the flexibility you need, helping you to learn key skills and traits that you can utilize effectively once you become a family nurse practitioner. Some of the other benefits of online learning include:
Career advancement and hobbies
Flexible learning environment and schedule
Self-discipline and responsibility
Lower total costs and debts
Learn from home
Avoid the daily commute
Eco-friendly
Only you will know the best route to go down, so before you commit yourself to an online nursing degree, make sure that you spend time reading the course specifications, entry requirements, as well as total fee costs.
Do Your Research
If you would like more information about family nurse practitioner roles, you can do so by searching the internet, as well as talking to nurses who are already working in the field. Getting a firsthand account of the role will help when it comes to making your final decision. There are various websites that can be a great place to start such as the JAANP (Journal of the American Association of Nurse Practitioners) which can provide you with more information. Also, you may want to reach out to your local hospital or school of nursing where you can find out if there are any upcoming career fairs that you can attend.
For those who want to broaden their career prospects and earn a higher salary, becoming a family nurse practitioner may be the best option for you. While many of the duties that registered nurses and nurse practitioners do overlap, such as taking medical histories, or conducting physical exams, becoming a family nurse practitioner enables you to work with patients on a closer level, helping to develop primary healthcare and treatment plans.