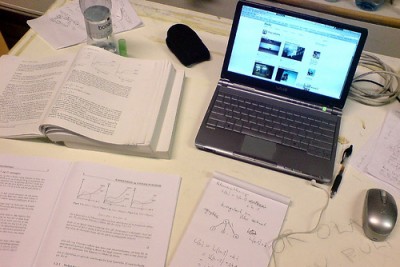 MBA degrees are nearly endlessly rewarding, especially for those looking to excel in business. MBA programs teach students the essentials of business management, from effective growth strategies to typical accounting and marketing practices, which qualifies them for higher positions ― and higher salaries ― much sooner.
Even better, these days, potential MBA-holders can participate in online education, allowing them to maintain their current employment and lifestyle while they better their professional prospects. However, MBA programs aren't easy, and online MBA programs can be challenging to balance. Fortunately, the following tips and tricks can help any MBA student succeed in earning and applying an MBA.
Application Tips
Take your applications seriously. Though online programs might not feel as significant as attending traditional on-campus universities, the courses will be at least as rigorous and the MBA earned will be just as real. You should give yourself plenty of time to complete your applications ― especially any essay portions ― so your apps don't seem rushed or insincere.
Play up your work experience. Unlike many other advanced degrees, MBAs tend to be well-used in the real world. The best MBA programs prefer applicants that show promise in business success, so the more work experience you can boast, the better.
Have a good reason for seeking an MBA. Whether in the written application or during interviews, at some point you will be asked why you want an MBA. Before you apply you should have a good reason ― one that isn't "I didn't know what else to do."
Be interested in specific programs. Business schools, like people, want to feel special and sought-after. To help your application stand out, you can demonstrate your interest in your top-choice programs by speaking with program officials, contacting faculty members, connecting with alumni, and more.
Networking Tips
Be a teammate. Though MBA programs are designed to build strong leaders, you will often be forced to work in a team. Bad teammates don't win any friends, so instead of being standoffish and unproductive, you must be friendly, cooperative, and constructive to earn allies in your classes.
Build a LinkedIn profile. LinkedIn is an incredibly convenient tool for managing your network, especially when a significant portion of that network was built through your online MBA program. Your profile should be truthful and professional-looking, so more of your classmates and professors will want to make digital links.
Use career services to expand. Just as you feel a near-immediate connection to anyone from your hometown, alumni of the same MBA programs tend to flock together. Career services can connect you with previous grads, faculty members, and more.
Seek face-to-face meetings. Putting faces and handshakes to names lays stronger relationship foundations. Not all online programs will offer in-person events ― but some will, and you should take full advantage of them.
Time Management Tips
Draft a calendar of important school dates. Online courses are even more meticulous in their syllabi than in-person classes, which means you can create a detailed calendar filled with dates for assignments, projects, and exams. You might make your calendar even more thorough with weekly blocks scheduled for studying ― and other responsibilities like work and family time.
Check in daily to remember responsibilities. Even if you are certain you don't have an assignment to complete, you should log into your MBA program to make sure. Daily check-ins will help you remain connected to your courses and stay ahead of stress.
Take advantage of technology. There are dozens of apps designed to help with productivity and focus. You can set up your computer, your smartphone, and other devices to help you complete your schoolwork faster and more thoroughly.
Miscellaneous Tips
Commit to your education. Though online schooling seems less intense, it requires you to show more determination and effort than in-person programs. You must commit whole-heartedly to the work if you have any hope for career success.
Appreciate your friends and family. MBA programs are rigorous, and online courses feel especially time-consuming. During your program, your loved ones will likely experience some mistreatment, such as more financial responsibility or less alone time with you. Whenever you can, you should show them you appreciate their sacrifice and will pay it back ten-fold after graduation.
Remember your goal. Whether you want to start your own business or seek to be the youngest VP in company history, your MBA can take you there ― as long as you stay confident and unswerving on your educational path.