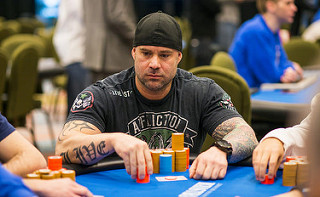 You may not be aware of it, but poker was hugely popular about a decade or so ago. (If you are skeptical, do a search for Chris Moneymaker online.) Though it did not last terribly long, it did create a new generation of poker fans and players. In fact, if you have picked up the game in recent years, there's a good chance your interest is related to someone who got swept up in all of that excitement.
Although it may take a while to recreate those heydays from the early 2000s, there are signs that poker may be starting to make a comeback within the general public.
Did you know there is a network devoted entirely to poker? It's called Poker Central and it's nothing but poker programming 24/7. It launched in October and includes shows like Poker After Dark and Face the Ace. The network was previously only available through devices such as Xbox and Apple TV, but it now has its own cable provider: the National Cable Television Cooperative.
For the time being, Poker Central may just be for diehards, but there is other TV-related news that implies poker might be creeping back towards a wider audience. According to Flickering Myth, former poker player Douglas Kim just started working on his new TV show called Just Dougie. He was the youngest player ever to make the final table at the World Series of Poker, which he accomplished in 2006. Written by Kim, the show is set in Los Angeles and follows a professional poker player who is trying to expand into the entertainment world. If you couldn't tell from the description, Just Dougie is based on Kim's life.
And while people enjoy watching poker (or poker players), the real fun is playing.
Even if you do not have a bunch of buddies to play with or even a deck of cards, you can still find a game. Betfair's site has a variety of different poker games online, and there are also quite a few tournaments players can get into. Driving that point home is the fact that traditional poker isn't the only type being played these days. An article on Poker News discusses how open-face Chinese poker has taken off in recent years. Apparently, thousands of people play this game everyday with their mobile devices. And there are now quite a few apps offering this kind of poker.
And poker isn't just starting to gain increased popularity in America. It's beginning to take off in India, as more Indian women are getting into it, reports CardsChat.
"I have seen women wearing nail paint to kaftans depicting poker chips," fashion choreographer Sheetal Sharma said. "That is the level of poker rage now."
Even famed auction house Sotheby's is getting in on the action. You know that famous painting depicting dogs playing poker? It just sold for a whopping $658,000. If that isn't a sign that poker is on its way back, then nothing is.
photo credit: Erik Cajelais via photopin (license)

Post Courtesy of Josh Weiss