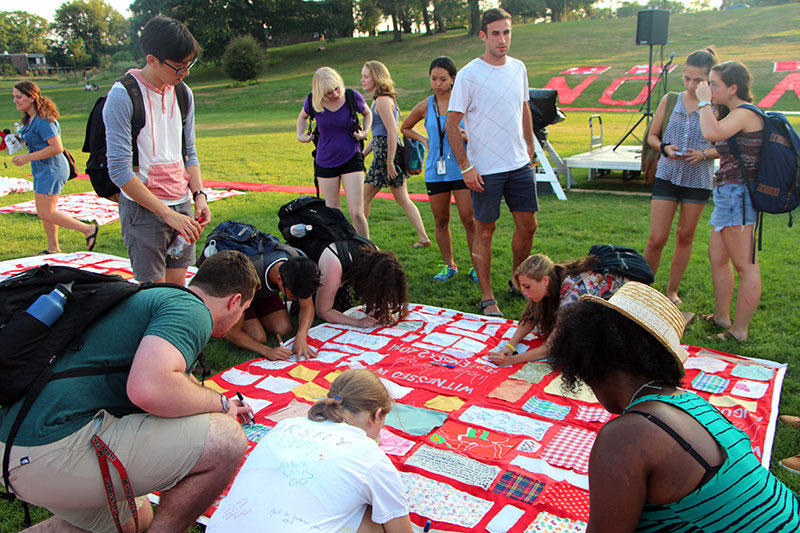 On the evening of Tuesday September 2, Wesleyan University students were joined by Connecticut Senators Blumenthal and Murphy for a massive demonstration of support for sexual assault survivors.
Over 300 students and community members witnessed 250 stories from survivors of rape and abuse, which covered Wesleyan's iconic Foss Hill. The Monument Quilt aims to change US culture from a culture that publicly shames survivors to a culture that publicly supports them.
The quilt gathered together college students and law makers to discuss how to change US laws and cultures to better support survivors.
In a speech delivered at the quilt, Senator Blumenthal stated that when talking with survivors of sexual assault he has heard that, "Many survivors felt they were victimized twice – first by their assailant and second by the system."
"Everyday, I see rape culture on campus, but I don't see support for survivors.  When I see this [The Monument Quilt], I see support.  I see survivors not being alone," says Wesleyan student Tess Altman.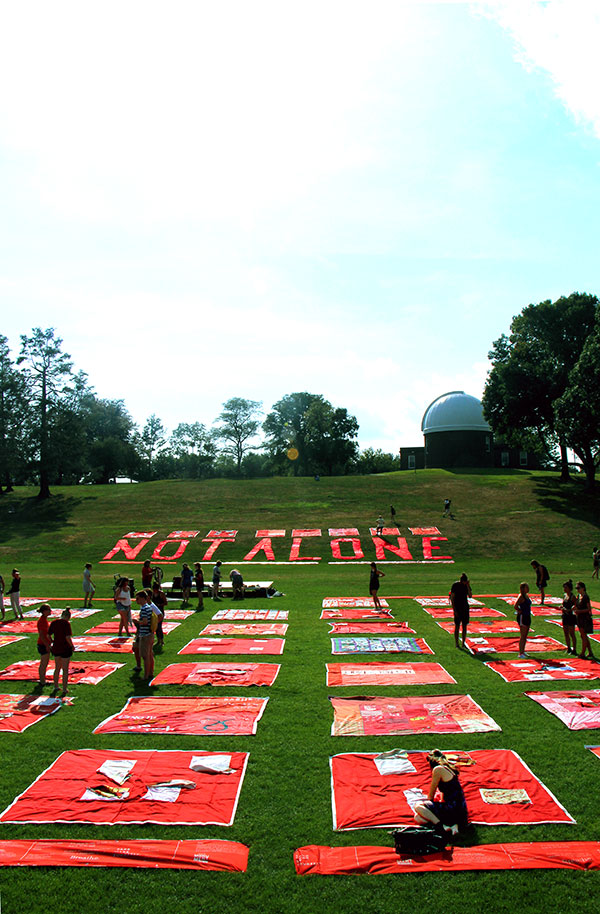 Sen. Murphy and Sen. Blumenthal visited The Monument Quilt Tuesday in the middle of a national debate on campus sexual assault legislation. During their visit, both senators met with Wesleyan students and heard survivors' stories and frustrations about how their cases have been handled.  Sen. Blumenthal is part of a bipartisan group spearheading the Campus Accountability and Safety Act, a bill designed to curb the epidemic of rape on college campuses.
"Universities need to treat sexual assault like a human rights problem, not a PR problem," says Rebecca Nagle, Force co-director.
"We are pleased to see that our law-makers are finally addressing the epidemic of rape on college campuses. We hope that these legislative efforts are not only successful but continue." says Hannah Brancato, Force co-director.  "Alongside new US laws that support survivors, we also need a new US culture that supports survivors."
Last spring, in response to a lawsuit filed against a fraternity by a rape survivor, a graduating Wesleyan University senior created a rap claiming that the real victims of the controversy were fraternity brothers. The viral rap, along with other instances of backlash against the suit, created a hostile campus climate for rape survivors.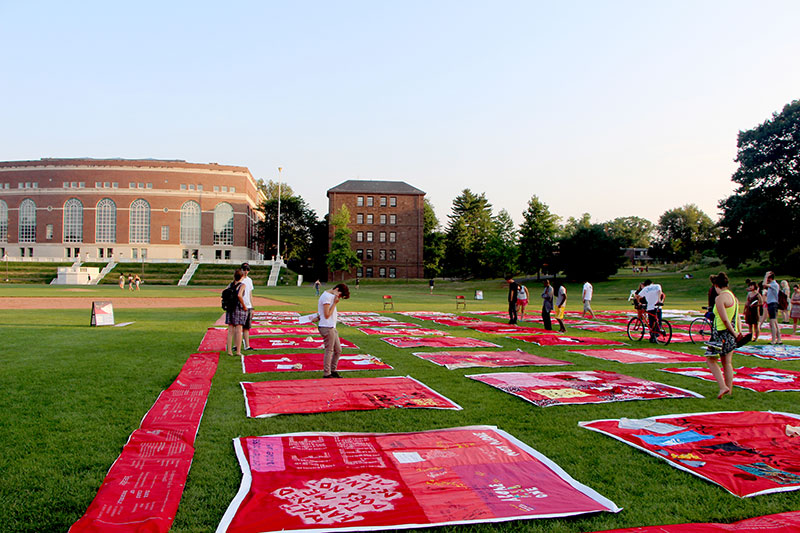 "After feeling very defeated at the end of last year, we started this year off with a powerful and positive message and a clear commitment to supporting survivors and changing policy," said Chloe Murtagh, Wesleyan student and event coordinator.
Survivor-led art and advocacy group Force, has taken The Monument Quilt on a 13-city US tour this month from White River, SD to Queens, NY. The 100 x 100 foot that toured the US this summer is only the beginning.
Over the next two years, more stories will be added to The Monument Quilt.
In a final display, The Monument Quilt will blanket over one mile of the National Mall with thousands of quilt squares to spell "NOT ALONE."