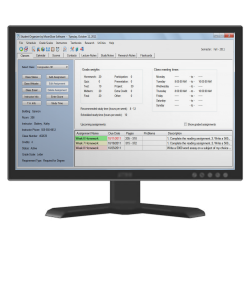 Ladies and gentlemen, I have to tell you about MoonGlow software. This is a new software program made available to any business professional or student. It's intended to keep all areas of your professional and personal life organized, without having to spend a lot of money or time.
So what exactly does it help you with?
Class scheduling and appointments
Keeping tabs on your grades and how you are doing in class
Has great editing tools for anything that may need a touch up
You can stay in touch with classmates and the teacher more effectively
There is nothing that this student organizer can't do. If you are a professional, which most of us are, than you are going to need to get this. So let's take a look at what makes this organizer so special. Let's see why this organizer makes all of the other programs and software our there obsolete.
The organizer that will make our lives simpler.
The homework organizer and planning software that can't be beat. This thing lets you plan your schedule around your class and study need, as well as your business needs. That way you can be sure that you are getting the most out of your time. Have you ever noticed that when you don't plan your schedule you wind up confused? Anxious that you didn't get enough time to prepare for this meeting or that class. You begin to worry that you didn't spend enough time studying for a specific test. This organizer takes care of all of that for you. It will set a reminder.  That way you won't miss anything.  You can keep track of any late or missing assignments. You can keep track of your grades and where you currently stand. Your calendar will add in new things automatically, so you can stay on top of what you have done and haven't done. If you turn in any late work, the program will update right away, once your teacher sees your work and grades it. You won't need to worry about missing an important meeting, because your software will remind you.
It is the ultimate software when it comes to note taking. You can record the lectures and notes that way you won't miss any information. This is perfect for those of us who are slow writers and tend to ask the teacher to repeat certain information. The lecture notes software takes away that stress. By recording the lectures you can add in the written words at your own convenience. You can also add what you will need for studying and subtract what is not needed. The software will keep the citations and group your words in different groups. This will reduce the stress later when preparing for a paper or exam. Simply refer back to the software. This is a great time saver guys!
The flashcard Program is the ultimate flash drive. The flashcard software will help you to memorize things much more effectively. This is a good thing, especially when it comes to a last-minute cram session. I think we all know how those cram sessions go. How many of us have been up till the wee hours of the morning hoping to ingest every piece of information. It becomes so intense that we forget what we have studied half the time. The flashcard program erases all of that confusion.
It keeps track of your degree program and loan information.This is good for those of us who are looking to go onto graduate school. Finding out the right place to go for grad school can be tough enough as it is. The student organizer erases all of that. It looks into where you are in your current program. How much of your student loans you have gone through. It keeps track of what you have left. The organizer will also update you on new loan programs that may be available to you. It also keeps track of where you are with your credits. It tells you which credits will transfer and which ones won't.
Other benefits of this program:
Holds an unlimited glossary.
Creates calculations for any math problem.
Keeps your business portfolio up-to-date.
The best part kids is that this program is an all-in-one. For all of these programs normally, you would need to buy separate software and pay for each one by itself. But this program includes everything and it's all at one low price! It currently retails at $30. That's right, $30! You can also download it for a 30 day free trial period. If you opt to buy the Finance Manager too, you can buy them together for about $40. That is a $10 difference! Plus you are helping out a good cause.
10% of all proceeds will go towards helping food for the poor. System requirements are Windows 7 and 8, as well as Windows Vista and XP3.
For any student or professional, this is well worth the investment!