It's here. Millions of textbooks and guided solutions – all on your phone.
The days of trudging across campus with a twenty pound backpack or wishing your professor's office hours extended to 2am are over. Chegg's new app for both iOS and Android gives you access to your textbooks, eTextbooks and guided solutions (think online tutor in your pocket) when you want it & where you want.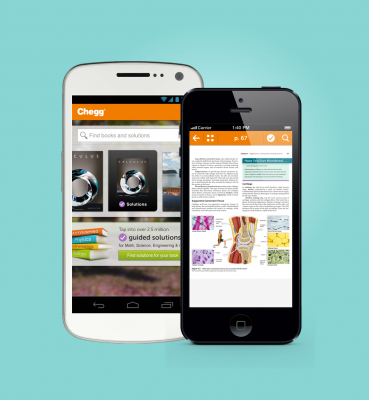 Purchasing or renting textbooks or eTextbooks is finally slick and simple. Search for your textbooks by title, author, ISBN or snap a photo with our barcode scanner. Still not sure about eTextbooks? That's ok – we've got over 100K eTextbook titles to browse and preview – all free of charge.
Professor not available? Not a problem. Just download Chegg to access over 2.5 million guided solutions. Bonus – you get 2 FREE every week because you deserve it.
iPhone. iPad. Android. Let's do this.
Chegg, the student hub, brings you textbook & eTextbook purchases and rentals, year-round scholarships, college matching services, online study tools and more.
Visit www.chegg.com/mobile for more info.