The words broke and college go hand in hand. If you have never eaten Ramen noodles as a college student, you're not doing it right!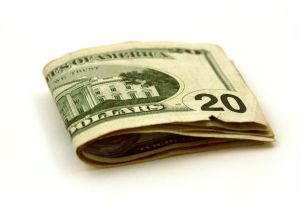 Here's some advice on how to make that cash in your pocket last as long as possible.
1. Cut down on Starbucks
You'll be surprised at all of the cheaper alternatives out there. While going to the nearest gas station instead to get a cappuccino from a coffee machine doesn't sound ideal (or as glamorous), it will certainly cut down on your costs. After all, caffeine is caffeine, no matter where you buy your coffee. Your drooping eyes will thank you later.
2. Use apps to find deals
Whether you use Foursquare, Gowalla or another app that helps you track down the hot spots in your area, use this as a tool to help you find the drink specials around you. While $2 Bud Lights don't sound like the most tempting thing in the world, it will certainly help you keep a few extra dollars in your pocket after a night out on the town.
3. Make the most out of that meal plan
Even if you aren't hungry at the time, still make sure you use your meal plan. You don't have to buy food for right now; you can also use it to buy breakfast food or snacks for later. Or maybe even stock up on some Gatorade if you know you'll be hungover the next day. At most schools, if you don't use it, you'll lose it — so make sure you use it!
4. Walk as much as possible
You're lucky to be on a college campus … it's one of the few times in life where you have the luxury of being able to walk almost everywhere to take care of what you need. If you're a commuter student, try to only make one trip to campus each day. Keeping your gas budget low is easy to do, but you've got to plan ahead to get the most out of all of your trips. Also, consider carpooling to campus with a roommate or neighbor to cut down on gas costs even more!
5. Make DIY gifts
Luckily for us, Pinterest is an amazing resource when it comes to the DIY department. There are a thousand gift ideas out there beyond your wildest dreams that are both cheap to make and fun to give out. Plus, your gift will mean a heck of a lot more if your friend knows you spent time on it.
6. Take advantage of free events on campus
One of the best things about my college is that there are free movies available in the campus movie theater most weekend nights. While the releases are usually delayed by a few months, I was always amazed at the selection of movies that were available to us FOR FREE. Your campus activities office should be full of ideas on what you can do. Make sure to check out its website or swing by the office — you'll be amazed at what you'll find!