It's the dreaded document most employers ask for when you apply for a position… the cover letter!
You'll always want to try to send a cover letter to employers, even if they don't ask for it in the job description. It will help showcase your skills, experience and ambition.
If you've never written a cover letter, you probably are wondering where to start.  The hardest part is completing your first one.  From there, you will be able to simply modify it for each job application based on the position.
Easy tips for writing a cover letter:
1. Grab attention with the first sentence.
Never start a cover letter with the boring, "I'm writing to apply…". You'll want to grab the recruiter's attention right off the bat with a creative approach. When you think about how many people may be applying for the position, it's clear why it's important to stand out among other resumes and cover letters in the first sentence.
2. Showcase yourself
As you're writing your cover letter, always remember the purpose of the cover letter: To show the recruiter you are qualified for the position and enthusiastic about getting the job. Be sure to state why you are qualified and give examples! Specific examples in any form of writing are so important. Without specifics, the cover letter is dull, generalized and proves very little about your qualifications.
3.  Remember, quality is better than quantity
You never just want to list off your resume on your cover letter. There's no need to name every position you've had in the past. Just starting out, you may not have tons of work experience. Think of the 3 best school or work related accomplishments you've had in the past few years. Then in your letter, go into detail about what you've accomplished and what skills you've obtained from your experience. The recruiter really wants to see specifics on your qualifications. The more you show, the more convincing you will come off.
4. Add some color or design elements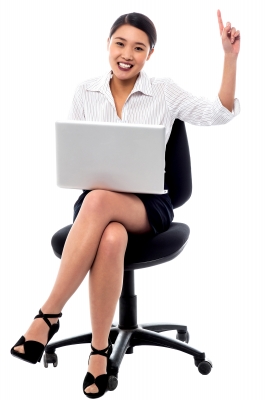 This one is completely optional, but can add a nice touch to a cover letter if you are applying for a creative position such as a graphic design, writing or advertising. It will grab attention and help showcase your creativity.
5. Keep it at one page length
It's best to keep your cover letter one page long. Mostly because it's easier for recruiters to read and will keep you from getting too wordy. You'll want content to be clear and to the point in your letter. If it gets too long, keep reading through the letter and delete any unnecessary words or sentences.
6. Last, but definitely not least, check grammar and spelling
As soon as the recruiter sees a grammar or spelling error, they may reconsider hiring you, especially if you're state that you are very detail oriented or have exceptional writing skills. It may not completely eliminate your chance of getting the job, but it will most likely affect your chances to some degree, especially if you spell the recruiters name or company wrong…yikes!  It's always a good idea to have someone look over your cover letter before you start applying for positions.
There you have it. To get started, it's best to layout your ideas first in an outline. Decide what you really want to highlight, organize the list with the most impressive skills at the top, and start writing from there. It doesn't have to be perfect, but a well-written cover letter can help you make an impression and land a position.