Greek Life is everywhere you see in movies and TV shows about college.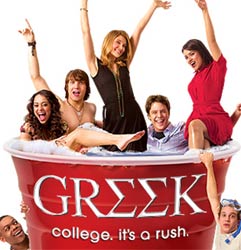 Some depictions make it seem like fun, while others make it seem like there's a whole bunch of drama.
The reality of it is that Greek Life is different on every campus. It's hard to make assumptions or stereotypes about Greek Life as a whole because everyone has different experiences.
However, no matter where you go to school, there are a few things that you'll want to consider as you decide whether or not you want to go Greek.
1. Are you ready to commit?
Joining a fraternity or sorority is supposed to be a lifetime commitment. It's not a decision to take lightly. Going into sorority or fraternity recruitment, you've got to recognize that you'll have to make a decision by the end of all of this. If you don't think you're ready to commit, listen to your instincts.
2. Can you afford it?
There are no if, ands or buts about it, going Greek can be pretty darn expensive. Chapter dues can be several hundred dollars per semester, and you may also have to chip in extra to go to social events. Not to mention, you may have to buy a meal plan through your sorority or fraternity, which also adds up.
The good news is that most chapters are willing to work with your financial situation and let you pay over an extended period of time. You may also be able to find scholarships through the national organization that can also help with some of the burden.
3. Do you have the time?
Between class, work and other extracurriculars, it could be hard for you to squeeze in another activity. If you only want to do the bare minimum, you may be able to get by with just going to one chapter meeting a week, but what's the point in that? You're paying to be a member, so you'll want to get as much out of it as you can. As one of my sorority sisters once told me, you only get as much out of it as you put into it. So, if you want to really enjoy your experience, you'll want to be as involved as possible.
4. Worried about finding the right fit?
Don't let movies like "Animal House" trick you into thinking that all members of fraternities and sororities do is party. While some groups are more into partying than others, there are still plenty of organizations out there who have different priorities. The best way to gauge whether or not you've found a match is to try to get to know as many members as possible. It's best to go with your gut in this situation … if it seems like a good fit, it probably is!
The bottom line …
Make sure you're joining because you want to do this. Even if outside influences like friends and family members want you to do this, this is your life, and this is a decision that you need to make for yourself. If you're feeling nervous about it, don't hesitate to talk to people who are already in Greek organizations on campus to get their feedback.