One of the hardest adjustments you'll make in college is to transition into the dorm lifestyle.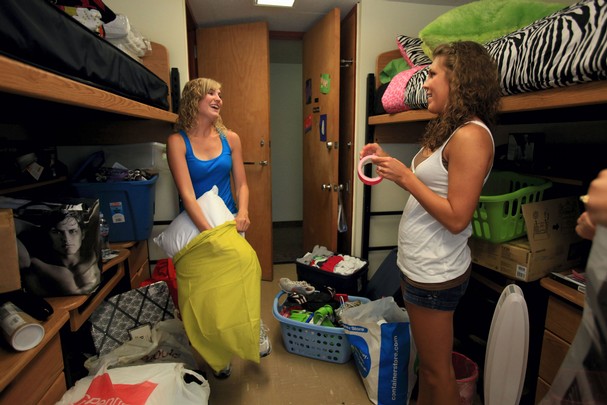 Not only will it be hard to live with a roommate (and maybe even some suitemates as well), but you'll have to learn to be independent and more responsible.
While you won't be able to prepare yourself entirely for life in the dorms, you can take care of a few things ahead of time that will make the transition a little easier.
Learn how to do laundry
This seems like a no-brainer, but unfortunately, I missed the boat on this one. I was lucky enough to have parents who would do my laundry for me in high school, and I never had to learn how to do it. While both of them told me I should learn before I left, I (unfortunately) never got around to it. I ended up having to beg someone who lived on my floor to teach me after I got to the laundry room and realized I had no idea what I was doing. Save yourself the stress and ask for help before you leave. Also, don't forget to start saving up quarters — you'll be amazed how desperate you'll feel when you have to do laundry last minute and don't have any coins.
Stock up on toiletries
While I'm sure you understand the basics of what you need (i.e. comforter, towels, clothing), you're bound to forget a lot if you leave your packing to the last minute. After I unpacked, my Mom and I took a trip to the Wal-Mart near campus, and she helped me stock up on items like shampoo/conditioner, laundry detergent, makeup and toothpaste. That ended up being one of the best decisions I ever made. Since I didn't have a car on campus, I would've had to figure out a way to buy these items myself. It certainly took a lot of stress off my plate knowing I had a month or so's worth of toiletries.
Hit up the grocery store
While you're going to have your freshman year meal plan, there are going to be plenty of times when it becomes inconvenient to use. Whether it's a rainy day on campus or the food courts are closed, you'll want to have some snacks and meals in your room that can be made without too much of a hassle. Although it's cliche, Ramen Noodles make for an easy (and cheap) meal that fills you up quickly.
Figure out your non-negotiables
One of the first things you'll have to do when you get to school is to sign a roommate contract. While there is a lot of it that is laid out for you, you'll have the ability to write in additional guidelines with your roommate. However, with the buzz of everything going on around you, it'll be hard to focus, and you could leave some very important details out. Figure out what you can't live with ahead of time and make a list so that you're prepared!
Get ready for class
While I'm sure going to class is probably the last thing on your mind, you've got to get your school supply list straightened out. You'll probably be able to find most of these items at the school bookstore, but prices could be jacked up, so you'll probably want to head to a Walmart or Target instead. Since you're not sure exactly what you'll need yet, I would only invest in a few packs of pens and pencils, a few notebooks and/or binders and a backpack. Also, a good thing to print out ahead of time is a map of campus and your official list of classes and their meeting times/locations. You don't want to be scrambling on the first day of class!
Avoid over-packing
I only used about half of the clothes I brought to school freshman year. Whatever you think you need to bring, you can probably divide it by half. Unless you're going to school on the other side of the country, you should be able to make it home at some point before winter to switch out your fall/summer and winter/spring wardrobes. Now is also a good time to go through your entire closet and figure out what you don't use anymore. Consider donating your discarded clothing to Goodwill or the Salvation Army.