Moving out of our dorms or apartments at the end of the semester or after graduation is often the last thing on our minds. School is out, and we want out of there.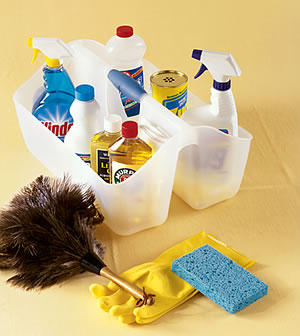 While you might not care what state your apartment is left in, your landlord does. Whether your landlord is the university or the owner of an apartment complex, be prepared to face fines if your living space is not in tip-top shape by the time you hand in those keys.
And trust me, you think you barely have any money now? Think about how empty your wallet will feel when you're slapped with a $100-plus fine.
Here is some advice on keeping your move-out fines low, and hopefully, getting that security deposit back!
Clean, clean, clean
You're going to have to clean like you've never cleaned before! Every nook and cranny of your apartment needs to be spotless as the day you moved in. Ask your roommates to chip in on cleaning supplies so you don't end up footing the entire bill. And, as annoying as it is  even if you ask for their help – if they don't want to clean it, you're going to have to if you want to avoid fees. For some of you, that may mean sucking it up and putting on some gloves. Use the possibility of a fine as motivation for your sweat and tears.
Don't forget anything
Fees can rack up if you leave things behind. You'll be surprised at just how much it will cost you! The easiest way to avoid fines is to double and triple check every closet, cabinet and room. Even if a roommate left it behind, you've got to make sure it's gone.
Meet with your landlord
If it's possible, you'll want to do a walk-through of the apartment with your landlord or the RA. That way, you can have instant feedback on what your damage costs are looking like. And if you don't agree with a certain damage claim, you'll be there to dispute it on the spot. Also, they should provide you with your own personal rundown of damages. Insist on getting one for your records. Many blogs also recommend that you take photos before you leave so you have proof of the conditions the apartment was left in.
Turn in your keys!
This sounds like a simple request, but often times, is the most forgotten thing (and the costliest). Don't forget about mailbox keys, spare keys, gym keys, pool passes, etc. If you don't, it may end up costing you! I was so infuriated when I had to pay $25 for not returning a pool pass, which was a plastic wristband (worth more than the darn thing cost!), but I had to because my lease required it.
Speak up
If something seems wrong or excessive, don't be afraid to stand up for yourself. If a fee seems ridiculous, don't just shut your mouth and pay it. You have rights as a tenant, so don't be afraid to use them. Many campuses have off-campus housing offices to help you navigate this territory.
For more information, check out the following blogs:
Your Apartment Move-Out Checklist