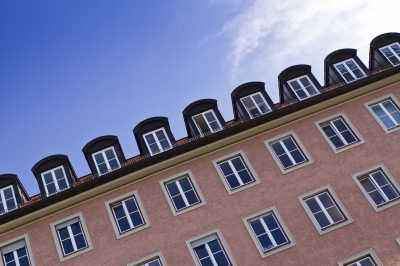 It's never to early to start thinking about next year's living situation. Although you can still live in the dorms, it's also common for students to venture out and rent their first apartment after the first year of college.
It may seem premature, but believe it or not, apartments for next year are already becoming available. It's best to look and plan ahead so you can have an ideal living situation next year.
When I was in college, I had no clue what to look for in an apartment. Since I didn't plan ahead and signed a lease for any apartment I could get (which was a challenge since I didn't have renting history or a co-signer), I ended up hating my first apartment. Don't let this happen to you!  All it takes is some planning, researching and asking the right questions.
Important Things to Know:
You may need a co-signer
College students usually have no credit and low income. This usually does not appeal to landlords. Aco-signer agrees to take responsibility for the rent if the renter falls short.
It's more affordable to have roommates
Usually a multiple bedroom apartment is just a few hundred dollars more than a one bedroom. It is more affordable to have a few roommates and evenly split the rent each month.
You will need to put down a security deposit
Before I started renting, I had no idea what a security deposit even was. It's basically a down payment to hold the apartment, but it is also used to cover any damage to the apartment during your renting period. If there are no damages, you will get your security deposit back after you move out.
Questions to ask:
What is the lease term?
Leases usually have one year terms, but complexes may offer monthly leases. With the school year only 9 months long, a monthly lease may help you save money if you plan on heading back home over summer. If you are signing a one year lease, it's good to ask if you could possibly negotiate a few months if you know you will be away.
What's included in rent?
Usually garbage and water are included, but sometimes heat, electric and gas can be included too. You plan your budget by asking these questions right away and calculating what you can afford.
What is the estimated cost per month for utilities?
Most landlords can give you an estimate of utilities. It's helpful to ask because some apartments are more expensive than others.
Are parking spaces available?
If you have a car, you'll want to know about parking, especially if you live in a city. Sometimes parking is included, but some landlords add on an extra fee for parking.
Are laundry machines available?
Even though you are renting, you may still have to go to a laundry mat. Not all units have laundry facilities on-site. Usually if it is on-site, there is still a charge for use. Find out the details.
Get together with roommates, calculate a budget and take tours of a few different apartments. Take notes while going through the apartments to help with the decision making process. Once you all come to an agreement, each roommate should meet with the landlord to sign the lease. Remember to have a little fun during your hunt too. This is going to be your first apartment on your own, enjoy it!
Photo by Free Digital Photos | By thephotoholic