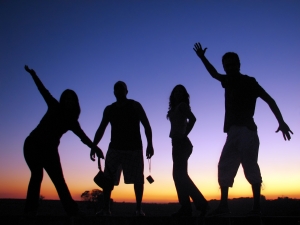 After diplomas are received and tassels moved, you and your fellow classmates scatter across the country to join your respective places in the real world. But what your relationship with your friends? Chances are your entire group will not be living in the same city, or even state. Thankfully, modern technology allows for plenty of ways to keep your long-distance friendship alive.
Skype
Skyping provides one of the best forms of communication for long-distance friendships. It allows people hear and see each other as they talk live. It's easy for anyone with access to webcam to use, and it doesn't cost anything to set up an account. The downside of Skype is that it can be difficult to schedule a time for both parties to get online, which is even harder for people in different time zones. The program is also better designed for people who have a longer period of time to spend chatting and aren't on the go.
Texting
A classic when compared to the new programs and apps being released, texting is still relevant when communicating with others long distance. Perfect for conversations when you can't actually speak, texting lets you carry a conversation casually while working on other projects. Though you lack the visual and audio, it works well for daily communication when you or your friend is running around. Group texts are also a fun way to keep everyone in the loop.
Facebook
The social media website is an extremely versatile way to keep in contact with others. You can publicly post links, photos or comments on a friend's wall, or choose them privately through a message. Facebook is good for people holding interactive conversations that include other medias, such as images. Want to show a friend what your new place looks like? Send a picture. Similar to texting you can also send group messages to your entire gang so that everyone is still in the loop.
Snapchat
Although it makes it extremely difficult to carry a conversation, Snapchat still has its benefits. It enables you to speak creatively through images and videos, and is often used to provide quirky and goofy messages to friends. The app is perfect for sending images and videos that aren't important enough to store, but still interesting to share with other. Snapchat is quicker to use than uploading an image or video to Facebook, so it's perfect for someone on the go who wants to snap a quick picture in six seconds.
Vine
Similar to Snapchat, Vine is a fun app for splicing pictures and short videos into montages. It's a fun way to keep friends updated on a busy day or fun night out. Vine allows you to post videos to Twitter and also works smoother than Instagram's video option. The major downside is that there is no privacy, so if you want your videos to remain somewhat private stick to Snapchat.
Although you don't live in the same city as your friend, it doesn't mean that the relationship has to suffer. With technology constantly expanding, it is easier than ever to erase the distance between people. However, if social media isn't your thing, there is always a good old fashion phone call.