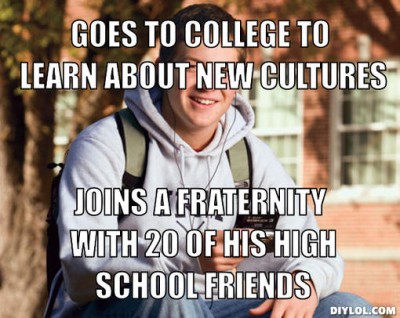 At the mention of the word, "fraternity," people typically visualize wild parties, substance abuse, and other forms of debauchery. Many think of a fraternity as somewhere that boys go before they get kicked out of school and have to enroll in alternative programs for higher education as they failed out of college. Because of this firmly entrenched stereotype, the value of these social clubs is often questioned. However, in some cases, fraternities do offer very recognizable and quantifiable academic and professional benefits. They provide students with very real and useful support, for personal, professional, and academic networks.
One of the ways of judging the long-term value of membership in a particular fraternity is by looking at what alumni from that fraternity go on to do with their lives. For example, one Forbes article shows that some fraternities are particularly good at creating Fortune 500 CEOs. Professionals often find their way into such positions largely due to the academic support they found among similarly ambitious students, as well as the valuable personal contacts that fraternity life tends to afford. Moreover, these standouts are not as exceptional as one would think.
Statistically, students in fraternities make better grades than students who are not.
It is also possible that fraternity performance does not result from any real benefits members receive, but rather due to the quality of the members. As argued in one article in Psychology Today, many fraternities have strict academic requirements, and this makes it natural that the students who remain in fraternity houses perform better academically.
Some believe this to be a moot point. These people have argued that, as with sports and other extracurricular activities, even if being in fraternities does not actually help students academically, the fact that members are willing to do whatever is necessary to meet the academic requirements for membership, does. Even if retaining membership is an added motivation for classroom success and nothing more, is that not still a real, positive value of the club?
Another metric that can be used to gauge the value of fraternities and sororities is the difference in student graduation rates. According to a document published by Ohio Northern University, only about 50% of university students in the United States end up graduating, while the rate for students who are fraternity/sorority members rises to 70%. This figure alone shows how the constructive pressure of the social environment produced by fraternities/sororities can have a recognizably positive effect on students' lives.
Some of the fraternities/sororities that have the most positive influence on students academically and professionally are, unsurprisingly, professional fraternities/sororities. These groups are founded specifically for the purpose of producing skilled and qualified university graduates in a specific field. An example would be Alpha Kappa Psi, which is one of the world's largest business fraternities. This fraternity – accepting both male and female members – helps students by providing academic support, professional networking, and group rates on things like credit cards and insurance. Another example would be Phi Alpha Delta, which is a co-ed law fraternity. In its Declaration of Purpose, Phi Alpha Delta states that one of its primary goals as an organization is to "stimulate excellence in scholarship."
While some of the negative perceptions of fraternity/sorority life are deserved – such as the higher tendency of binge drinking – these negative stereotypes are not representative of every fraternity or sorority, and they cover up the positive benefits that these clubs really offer. In many cases, these organizations can actually deliver very beneficial opportunities and environments of support and service.