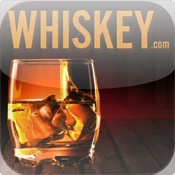 Our friends at Whiskey.com and Domain Millwork recently launched their "Whiskey.com App" for Apple devices, with the Android version set to launch in early May.  Applause to the team at Domain Millwork for their great work on the new app and website. The Whiskey.com app puts thousands of whiskey listings at your fingertips. Quick navigation features let you browse ratings and reviews on everything from brands to distillation. The built-in GPS and Keyword search pin points and provides directions to whiskey locations, such as: bars, distilleries, stores and more. When you find something you like, the Facebook and Twitter integration features make it easy to share with your network.
Ratings and Reviews
Find out what others think about whiskey. Read ratings and reviews about brands, bars, types and more. Be sure to post your own reviews directly from the app when out at a bar or distillery.
Mobile Check-Ins
Keep track of your whiskey experiences with the Mobile Check-In. You can also see the other members that have checked-in and view their reviews of that location.
Facebook and Twitter Integration
Instantly post or tweet your favorite listings, events, articles and deals with one click. Use your Facebook account to login and manage your profile.
GPS Integration
The Whiskey.com App uses the GPS in the Apple Device to find nearby listings and generate directions. Touch screen map features make it easy to navigate the app and edit the search area.
What you will find:
The best online resource for Whiskey – Bars, Brands, Distilleries, Drinks, Stores, Types, History, Ratings, Articles, Classifieds, Deals and Events.
Download the Whiskey.com App now for instant access to all of these great features.
See more from DomainMillwork.com