If you were taught in high school that all college students care about is partying, you were mistaken!
Colleges produce some of the biggest fundraisers nationwide each year, including THON at Penn State, which recently raised more than $9 million "for the kids" during a 46-hour dance party.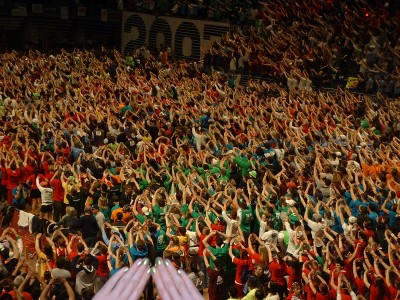 Although every college doesn't have a philanthropy this large, each year thousands of college students across the nation hold events to raise money for good causes.
If you haven't participated in a collegiate philanthropic organization yet, I really encourage you to do so.
I've spent two years as a Morale Leader for the University of South Carolina's 24-hour Dance Marathon and these 48 hours were two of the best days of my college career.
There is nothing more exhilarating than knowing that you've done a good deed and helped make the world a little bit better.
Want to get involved but don't know where to start?
Here are some simple tips to help you get involved and raise money for your cause.
1. Find a cause that means something to you
Each one of us is different. While jumping up and down and dancing for 24 hours may appeal to me, it doesn't for everyone.
The key is to find a cause that has a deeper meaning for you and to stick with it. Do you have a passion for animals? Find an organization where you can help.
Want to help find a cure for cancer? Get involved with your university's Relay for Life program.
2. Team up with a friend
Fundraising can be a lot of fun, but it can also be extremely frustrating at times. This is why it's important you have someone to keep you in check and remind you why you want to support the cause.
Pick each other's brains for original ways to raise money. I raised so much money when I went canning outside of a basketball game with one of my sorority sisters and not only did we raise money, but we had fun while doing it.
3. Hack your mom's Facebook
No, really. This is a guaranteed way to raise awareness about your cause.
After you've exhausted your friend group begging for money, this could be a good alternative to find more people who want to donate to your cause.
Whatever cause you end up giving to, just remember that it doesn't matter who or what you're helping, the important thing is that you're getting involved and trying to make a difference!