Showing some College Cures love to an ambitious and driven young woman from my hometown in Connecticut.  Meet Krystelle Lorraine, a contestant in the Top 50 for Charlie Sheens new "Tiger Blood Intern."
Krystelle Lorraine was selected as one of the top 50 finalists in the search for Charlie Sheen's Social Media Intern, dubbed the "tiger blood intern." Krystelle, a Sherman Oaks local, is founder of Modern Muse Online (www.modernmuseonline.com), a social media management company that specializes in representing clients within the entertainment industry.
Charlie Sheen, a four time Emmy nominee and Golden Globe winner, is most recently noted for his role on Two and Half Men. Sheen recently set a Guinness World Record for Twitter as the "Fastest Time to Reach 1 Million Followers", adding an average of 129,000 new followers per day.
The competition, hosted by Internships.com and Charlie Sheen, was announced March 7 and had 82,148 applicants from 181 countries in the first round alone. Applicants had to submit, in 140 characters or less, why they would be the best "tiger blood" intern for Charlie Sheen. Krystelle said she applied because it was a great way for her to help a public figure "properly leverage his social media presence," further stating, "Everyone knows Charlie's got his goddesses, why not let me be his muse?"
In round two, select applicants were asked to submit personal information, including relevant work experience as a social media manager. As an experienced social media manager in the entertainment industry and founder of a social media management company, Modern Muse Online, Krystelle was qualified for the position.
After making several thousand cuts, by many accounts down to as few as 500 candidates, round three required applicants to post a video on YouTube answering one of the following questions regarding social media:
If you were the Social Media Director for a major humanitarian aid organization, how would you create awareness and raise money via social media in the aftermath of a global disaster?
In your opinion, what is the best company using social media today and why?
How would you advise a candidate running for public office to leverage social media in his or her campaign for election?
Answering question two, Krystelle posted her video response (https://youtu.be/BATWeh_CXQA) on YouTube and discussed how Ashton Kutcher and his company Katalyst are the best company using social media today.
On April 11, after careful review, Internships.com narrowed the applicant pool down to the final 50 and notified the candidates that Charlie Sheen's team would be contacting candidates directly to finish the interview process.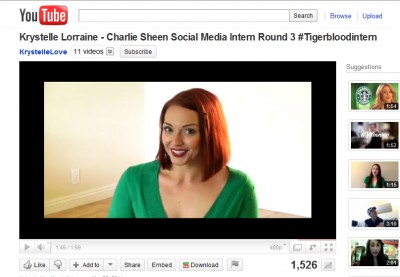 On making it to the final 50, Krystelle said:
"I am really excited at this tremendous opportunity. This tiger's ready to play with the big cats …"
1. How did you receive this opportunity?
As I work within the social media world with the entertainment industry, I find it important to keep up with what is going on. With all the media coverage around Charlie Sheen, I found out about the internship pretty quickly once it had been announced. I just applied for the first round with the intent to write 140 characters that wouldn't be obvious and would be appreciated by Charlie Sheen and his people.
2. What are your thoughts should you be chosen to be his intern?
I am so proud because, even though some might think it isn't hard to make it this far, the process started with over 80,000 people and only one gets the job. The 50 most qualified people are left and that alone is worth being proud over. I know that if I were on Charlie's team, I could help in more aspects than the social media. I am a very loyal, committed, and hard working; I can stay grounded in difficult situations and can handle myself with integrity.
3. Have you  always been a fan of Charlie Sheen's?
Over the past few years, I have really enjoyed "Two & a Half Men" & respect the work that Charlie Sheen does for the show he stars in. He is the most paid man on TV, and for that, I certainly respect him.
4. Can you comment about the recent controversy that surrounds him at the moment?
As with every conflict, there are two sides to every story. I am sure there is a very good reason why Charlie left the show. I certainly think he's brilliant at building hype around his name and he really demonstrates what the audience is drawn to, whether on screen  or off.
5. How do you think this will benefit you in the long run?
I know that some people think this is a bold or "risky" career move; however, I have never been one to leave a stone unturned. I love every aspect of the entertainment industry and see every opportunity as an occasion to grow and learn. I would be excited and honored to work for someone so visible. It could really help me receive the publicity that I need to have a successful career in the long-run.
6. Can you share any additional thoughts about being one of 50 finalists?
I am not one to be star-struck, I am just really looking forward at the opportunity to work for a client that has such an enormous following; I would be like a kid in a candy shop! Please keep your tiger paws crossed for me! This tiger is ready to play with the big cats!
Good luck Krystelle! Every new challenge is a step forward.
Youtube Application Video:
Krystelle Lorraine Twitter Account
https://twitter.com/LoveKrystelle
Krystelle Lorraine Facebook
https://www.facebook.com/KrystelleLorraine
Modern Muse Online
https://www.modernmuseonline.com/
In The Press: See Krystelle featured in the Hartford Courant
https://www.courant.com/entertainment/celebrity/hc-charlie-sheen-intern-lorraine-041320110412,0,4117994.story?sdf