Alright seniors, it's officially January and you know what that means: it's your last semester of college, you need to focus on graduation, getting a job, and the yep, the party is just about over.
But don't let looming graduation get you down; yes, graduating can be tough and I can tell you from personal experience that the first year out of college is a tough one, but you are about to start a whole new chapter of your life and that can be really exciting.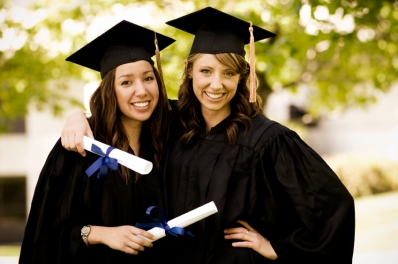 But in the mean time, you want to squeeze as much out of this last semester as humanly possible so here are some tips on how to slow down, enjoy your time and soak up every minute of college life.
1. Make Time for Everyone
If you typically spend most of your time with a certain group of people, you should make the effort to branch out and hang with people you have been "neglecting".
Instead of spending every single weekend with your roommates or best friends, start going to those parties you always get invited to, grab a beer with that guy/girl from class, hang out with the younger crowd in your respective organization, or hit up your friends from your freshman dorm.
Don't look back on college knowing you didn't spend time with the people you cared about, make time for everyone in your last semester so you will never have regrets.
2. Try Something New
If you have been itching to write an article for the school newspaper or you have always wanted to try out the sailing club (Henry), then don't wait until after college to figure it out.
Make time for the activities you have an interest in; you may realize you have a hidden talent, a passion for something unexpected, or maybe you will make a new group of friends. The point is, you will never know until you try.
Don't put it off any longer; check out your college's website and see what time each club meets and check it out ASAP!
3. Break It Off
If things haven't been going well in your personal life, end it now before you waste another semester with someone who isn't worth it.
Ask yourself a few questions: how often do the two of you fight? Do you enjoy the time you spend together? Do you have a lot in common? Could you see yourself being happier with someone else? Are you happy?
Pay attention to your answers; if you aren't happy, ditch the ball and chain and enjoy your last semester relationship and drama-free.
4. Reach Out
Because this is your last semester, you need to make it count in school too. If you haven't made the effort to get to know your professors or those in your classes, now would be the time to do it.
If you really enjoyed a class while in college, you should reach out to that professor and schedule a meeting with him/her. Offer to buy him/her a coffee or maybe go out to lunch. It is always nice to get to know your professors outside the classroom as it gives you both an opportunity to talk about things other than class.
Your professors are huge resources not only in terms of writing you recommendations or helping you to find jobs, but they're typically good at giving advice as well. Your professors have dealt with a lot of students over the years and they know exactly what you are going through; if you have a problem with school, career, or life, they can usually help in one way or another.
If you haven't talked to anyone in class, stop ignoring everyone. Make the effort to talk up the person next to you and see what they're all about. You may make a study buddy, or better, a new friend.
5. Go For It
If there is something you have been meaning to do these past four years, but you just haven't committed or worked up the courage, now would be the time to make it happen.
Have you been meaning to ask someone out? Try out the local casino? Maybe you want to join a club or organization? Haven't been to a game all year? Go on a road trip? Do the things you want to do! You will most likely never get the chance to be an undergrad again so take advantage of everything you have around you when you have it.
Remember that college only comes around once for most of us and grad school is never the same, so take advantage of the things you have NOW and don't wait until graduation to figure this all out.