This post is part of program called "Charged and Ready" by Sony Electronics and Microsoft, where a group of college bloggers have been given a Sony VAIO-S series laptop to test and review.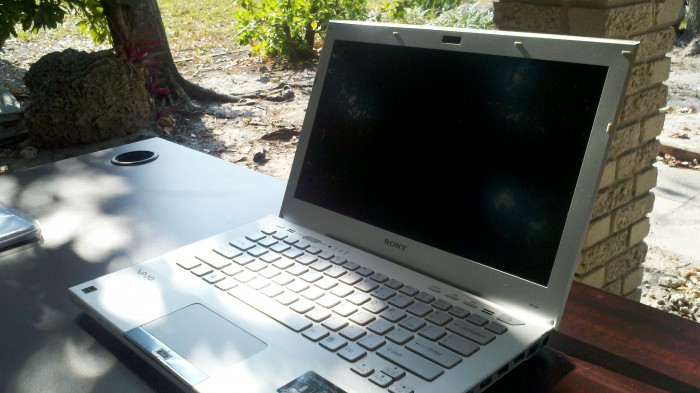 Sony recently challenged college bloggers of all types to try out their all new Sony Vaio S laptop "unplugged for a day" and share the results with their readers.
See related articles on HackCollege, GearDiary, CollegeInfoGeek and several others.
My experience with the Sony Vaio S "unplugged for the day" was thoroughly enjoyable; it took me across the country from the sunny beaches of South Florida to the mountains of Colorado and back.  Clearly when traveling its important to pack light and efficient. Usually I'll carry along my Sony FW390, but what a relief it was to carry this much lighter beast known as the Sony Vaio S.  My Sony FW390 is quite a bit larger, heavier and acts like more of a desktop for me – though it's still portable and sensible enough to travel with. The Vaio S however, will be the only laptop I travel with from now on.
This was the first time I got to travel with the new S series laptop. I enjoyed a ridiculously lighter load and much less hassle in every way. I left the house with the Vaio S completely charged and took to the airport. The four-hour flight included some Word processing and about 2 hours of intense Solitiare gaming as we awaited our arrival in Denver, CO. The S series laptop was small and compact for the plane but still boasted a ridiculously clear and bright screen that always tends to be the perfect size.  I used the easy toggle switch to move the laptop from "Speed" to "Stamina" so it could last throughout the journey.
As we began the two hour drive through the scenic mountains from Denver to Vail, CO, the original charge on my Sony S was still jamming enough to charge our phones through the USB port as we navigated our way.
Throughout the weekend, the laptop played a key role in the crew; playing tracks from The Avett Brothers to prepare us for their concert at Red Rocks, acting as my mobile office and of course, playback of the night's videos the next morning.
Overwhelming happiness from the trip wasn't stunted even though we got held up in Denver airport for a three-hour delay on our way back.  The relief was, at any point I could whip out the Sony Vaio S and start tooling around.

My favorite things about this laptop are as follows:
Unlike my smartphone, I can easily manage the battery life of this laptop with the "Speed/Stamina" toggle switch, lowering the brightness or altering settings within the operating system
Lightweight and compact design made the airport and airplane ride easy and enjoyable
I could fully open the laptop screen on my tray-table
The screen is crispy clear for graphics work, web design and even watching DVD's
Quick boot-up makes turning the laptop off and on a quick and painless experience
Outrageous battery life
The one thing that makes portable computing a task is the fact you always need to be searching for an outlet. Airplanes, airports, coffee shops and WiFi hotspots don't always come through.
As I arrived home after the 4 hour journey back, my Vaio S still had enough juice to jazz some Pandora as I drifted off to sleep. An awesome vacation, a wonderful journey and yet another computing experience enhanced by my Sony Vaio S.
The replacement battery was essential. It was light and easy to carry on this trip and came in handy for the ride home.

Get yours at Sony.com/BatteryOffer