Cooking in dorms is no small feat! You don't have all the utensils and tools to make an elaborate dessert and for many students, you don't have the budget to purchase all the ingredients needed for a decadent treat.
Luckily, thanks to processed foods and innovative thinkers, some desserts can be easily "prepared." I use the term "prepared" loosely.
Here are 5 FANTASTIC dorm-friendly desserts; some require a kitchen and some don't!
1. Yoplait Whips! Yogurt
Freeze this yogurt completely for a quick, low-calorie substitute for ice cream or just for an hour for the perfect frozen yogurt texture! You can even put it in a Popsicle maker and freeze it so it comes out like popsicles!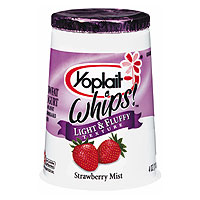 2. Jell-O Flan
This dessert is a joke, but so delicious! All it requires is one packet of Jell-O flan mix and 2 cups of milk (buy a can of evaporated milk as a substitute if you don't keep milk).
Follow directions and refrigerate overnight for a delicious and easy flan! My Peruvian friend was skeptical that a second generation Indian girl could make flan (her skepticism was justified since I really didn't "make" it) and was impressed at how authentic it tasted!
3. Orange Jell-O Salad
This delicious recipe requires only 3 simple ingredients: Orange Jell-O Mix, Coolwhip and canned mandarin oranges.
Prepare the Jell-O as instructed on the box and set in a bowl. After the Jell-O sets, use a fork to mash it up. Add Coolwhip and oranges to taste and refrigerate! Simple, easy and delicious!
4. Blizzard Ice Cream
I used to make this so much while in college. It's 100% no fuss (only requires a spoon) and you just need vanilla ice cream and your favorite candy bars.
Take ice cream and defrost it so that it's creamy, but not 100% melted. Break off chunks of your favorite candy bar and mix with a spoon.
Some great candy bars include: Hershey's cookies and cream, Heath Bar, Snickers and Twix. I used to use a combination of them all! Freeze the ice cream and you have some made-to-your-liking, decadent ice cream stocked away!
5. Betty Crocker Turtle Brownies
I don't think I've ever tried a better brownie mix in my life! It's not like making brownies from scratch, but it's great to have for an impromptu baking session.
The mix comes with walnuts and caramel sauce! Note: Leftovers are great additions to blizzard ice cream!